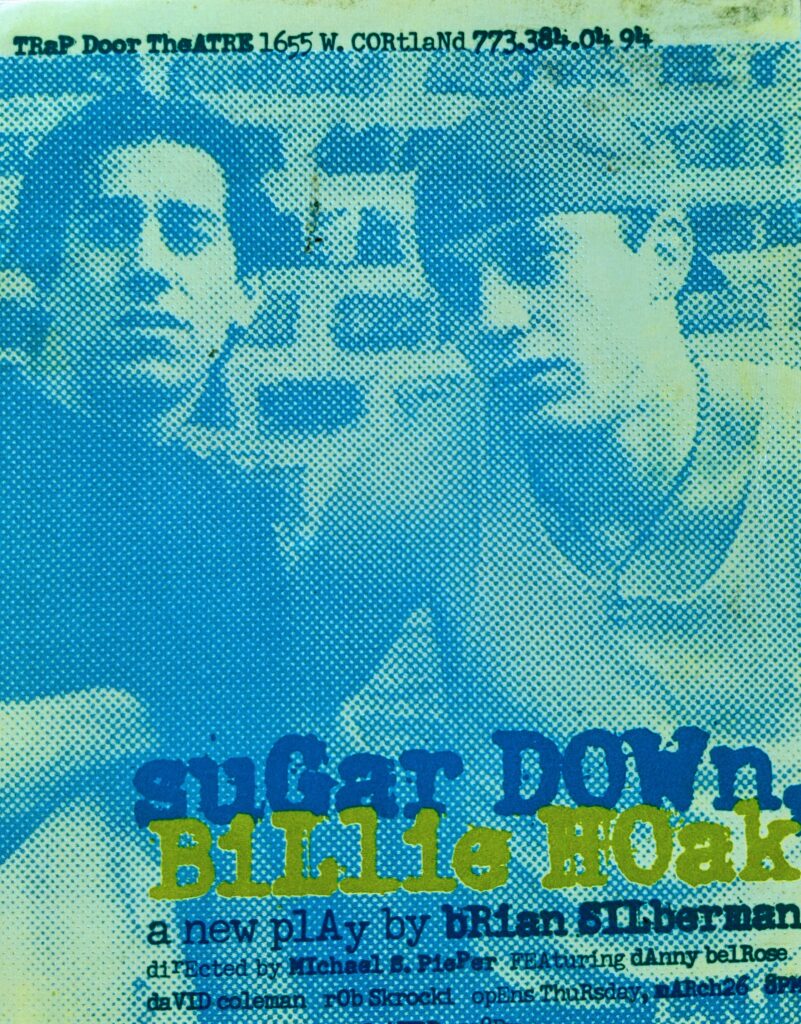 Cast: Danny Belrose, David Coleman and Rob Skroki.
Playwright
Brian Silberman is an American playwright. His plays have received many awards and have been performed throughout the US. He has written such plays as Walkin' Backward, and The Gospel According to Toots Pope (two sections of the five play collection The Buckland Canticle). Other plays include Manifest and Half Court.
Lighting Design: Richard Norwood / Set Design: Michael S. Pieper / Sound Design: Bob Rokos
Sugar Down, Billie Hoak

Written by Brian Silberman
Directed by Michael S. Pieper
March 26, 1998

Winner of an After Dark Award
Two NY hustlers confront the cycles of abuse in their lives in a dirty underground bathroom.
Trap Door, edgy and ambitious, here stands proud on the strength of three riveting performances, which combine ferocious visceral power with impressive craft and discipline.
Albert Williams, The Chicago Reader
There's a power play happening on Cortland Street…
Lawrence Bommer, The Windy City Times
Director
Michael S. Pieper has been developing and teaching his method of acting in the Midwest and west coast since 1988. Michael headed up the Acting Program at the Second City Training Center for the last 22 years. He received his Masters of Fine Arts in Directing from the United States International University of San Diego where he also was on the faculty for eight years. He was the Artistic Director of the North Coast Conservatory Theatre in San Diego, the Resident Director/Artistic Associate at the Trap Door Theatre and Artistic Director of the Boxer Rebellion Theatre, both in Chicago. Michael has directed over 98 productions and acted in over 40 productions.