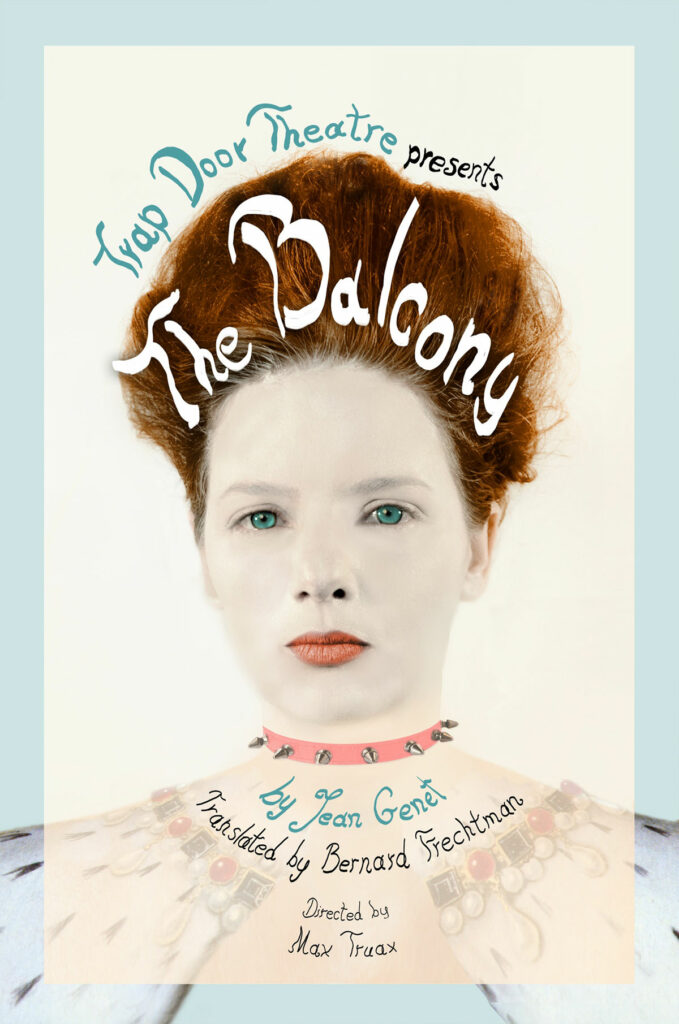 Cast: Antonio Brunetti, Simina Contras, David A. Holcombe, John Kahara, Meghan Lewis, Michelle Oliver, Thom Pasculli, Alžan Pelesic, Ann Sonneville, David Steiger, Nicole Wiesner, and Carl Wisniewski.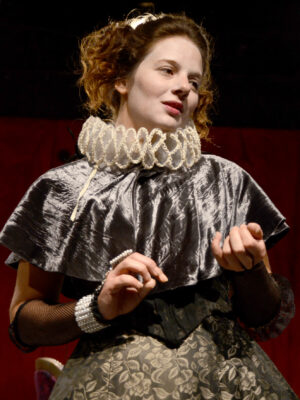 Playwright
Jean Genet (19 December 1910 – 15 April 1986) was a prominent and controversial French novelist, playwright, poet, essayist, and political activist. Genet's mother was a prostitute who raised him for a year before giving him up for adoption. In and out of prison for much of his early life, he was a vagabond, petty criminal, and prostitute – experiences which informed much of his writing. His major works include the novels Querelle of Brest, The Thief's Journal, and Our Lady of the Flowers, and the plays The Balcony, The Blacks, The Maids and The Screens.
Assistant Director: Laura Smith / Set Design: Joanna Iwanicki / Costume Design: Rachel Sypniewski / Lighting Design: Richard Norwood / Sound Design: Danny Rockett / Make-Up Design: Zsofia Ötvos / Graphic Design: Michal Janicki
The Balcony

Written by Jean Genet
Translated by Bernard Frechtman
Directed by Max Truax
September 5 – October 12, 2013

Set in a brothel during a bloody revolution, "The Balcony" is Genet's examination of the artifice of authority. Madame Irma's brothel specializes in providing fetish scenarios for clients who seek the erotic pleasures of playing government icons without having to bear the burden of their functions. Irma's domineering and manipulative leadership of the brothel has bred an atmosphere of intrigue and distrust that lives in secret exchanges behind the padded doors of the brothel's studios. When the real revolution disrupts the sanctity of the brothel's fantasies, and the real figures of government go missing, Irma and the Chief of Police must work together to devise a grand scenario that will preserve the status quo while immortalizing them both forever. Unexpected consequences arise when reality finally penetrates the web of their elaborate fantasy.
If you enjoy your existentialism with a side of tawdry humor, this Balcony has the perfect seat for you.
Katy Walsh, Chicago Theatre Beat
With The Balcony, Trap Door continues its long tradition of presenting mature, challenging political theatre for discerning audiences
Dan Jakes, Time Out Chicago
RECOMMENDED!
New City, CenterStage, and ChicagoCritic
Director
Max Truax has been a Resident Director at Trap Door since 2008. For Trap Door, he has directed six critically acclaimed productions, including an operatic interpretation of Heiner Muller's Hamletmachine with original music by long-time collaborator Jonathan Guillen. Max also directed Trap Door's production of A Couple of Poor Polish-Speaking Romanians at the Fun Underground Festival in Arad, Romania and at the Bagatela Theatre in Krakow, Poland. Max served as the Artistic Director of Oracle Productions from 2011 to 2016, where he directed several shows, including No Beast So Fierce, The Mother, Woyzeck, The Ghost Sonata, and Termen Vox Machina. His production of The Mother received 7 Jeff Awards, including awards for Best Production, Best Adaptation, and Best Ensemble. In addition to Chicago, Max has directed for multiple stages in Los Angeles and at the Krannert Center at the University of Illinois Urbana-Champaign. Max studied visual art, performance art, and choreography at Oberlin College, where he founded the site-specific performance company \twelv\ and devised the multi-venue opera BEING NOT NOTHING. Max received his MFA in theatre directing from California Institute of the Arts, where he studied with Travis Preston, Suzan-Lori Parks, and Kevin Kulke. Max currently serves as Artistic Director for Red Tape Theatre, where he has directed Round Heads and Pointed Heads, Yerma, and A Hedda Gabler.