The Fairytale Lives of Russian Girls
Written by Meg Miroshnik
Directed by Nicole Wiesner

October 15, 2015 – December 5, 2015
THIS PRODUCTION WAS JEFF NOMINATED FOR "BEST SUPPORTING ACTRESSES": MARZENA BUKOSKA & SIMINA CONTRAS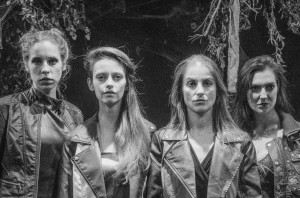 Cast: Marzena Bukowska, Simina Contras, Halie Ecker, Meghan Lewis, Emily Nichelson and Ann Sonneville
"This production is a remarkable example of hypnotic ensemble acting. 4 stars!"  – Venus Zarris, Chicago Stage Review
"For 16 years on Trap Door's tiny Bucktown stage, Nicole Wiesner has been compelling, elusive, and ferocious. It turns out her directing is exponentially more so. In only her second stab at Trap Door's helm, she turns Meg Miroshnik's thrillingly inscrutable 2012 play into a multivalent, hallucinogenic thrill ride that never makes rational sense yet rarely fails to mesmerize." – Justin Hayford, Chicago Reader
"A stellar all-female cast… each actress takes full advantage of her turns stirring the crowd in the intimate space… 4 stars! " – Gwen Purdom, Critics Pick, Time Out Chicago
"Nicole Wiesner keeps the 90 minute show vivacious at nearly every point." – Clint May, Chicago Theater Beat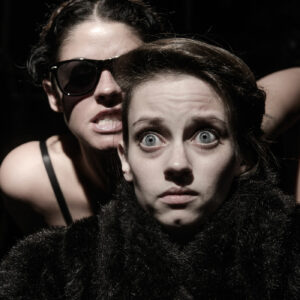 When Annie is sent to Russia to be immersed into her native language and culture, she finds herself thrust into an enchanting post-Soviet world filled with new friends still fighting the witches, bears, and evil stepmothers that haunted all of our childhoods.
ABOUT THE PLAYWRIGHT: 
Meg Miroshnik is an American playwright, librettist, and screenwriter. She has received multiple awards for her many plays, which have been developed or produced at dozens of theaters. She has written such plays as The Fairytale Lives of Russian Girls, The Droll, The Tall Girls,Old Actress, as well as an adaptation of the libretto Cheryomushki.
ABOUT THE DIRECTOR:
Nicole Wiesner (she/her) joined the Trap ensemble in 1999 and currently serves as the Managing Director. Her directing credits for the company include Minna,The Fairytale Lives of Russian Girls, Phèdre, Monsieur D'Eon is a Woman, The Old Woman Broods, and The White Plague. Some of her favorite Trap acting credits include First Ladies (dir. Zeljko Djukic, Joseph Jefferson Citation: "Outstanding Actress"); OVERWEIGHT, unimportant: MISSHAPE (dir. Yasen Peyankov); and the title roles in The Bitter Tears of Petra Von Kant; Nana (dir. Beata Pilch) and Alice in Bed. (dir. Dado). Regionally, she has appeared at the Goodman Theatre in 2666, directed by Robert Falls and Seth Bockley; Shining City directed by Robert Falls; and Passion Play, directed by Mark Wing- Davy (After Dark Award, "Outstanding Performance"), at Steppenwolf Theatre in The Book Thief (dir. Hallie Gordon), South of Settling (dir. Adam Goldstein) and Dublin Carol (Dir. Amy Morton); as well as Lookingglass Theatre, Court Theatre, Next Theatre, Yale Repertory Theatre, Huntington Theatre, Epic Theatre.
Assistant Director: Gary Damico/ Set Designer: Aaron O'Neill/ Lighting Design: Richard Norwood/ Costume Design: Rachel Sypniewski/ Sound Design: Danny Rockett/ Make-Up Design: Zsófia Ötvös/ Graphic Design: Michal Janicki/ Dramaturge: Milan Pribisic/ Stage Manager: Gary Damico