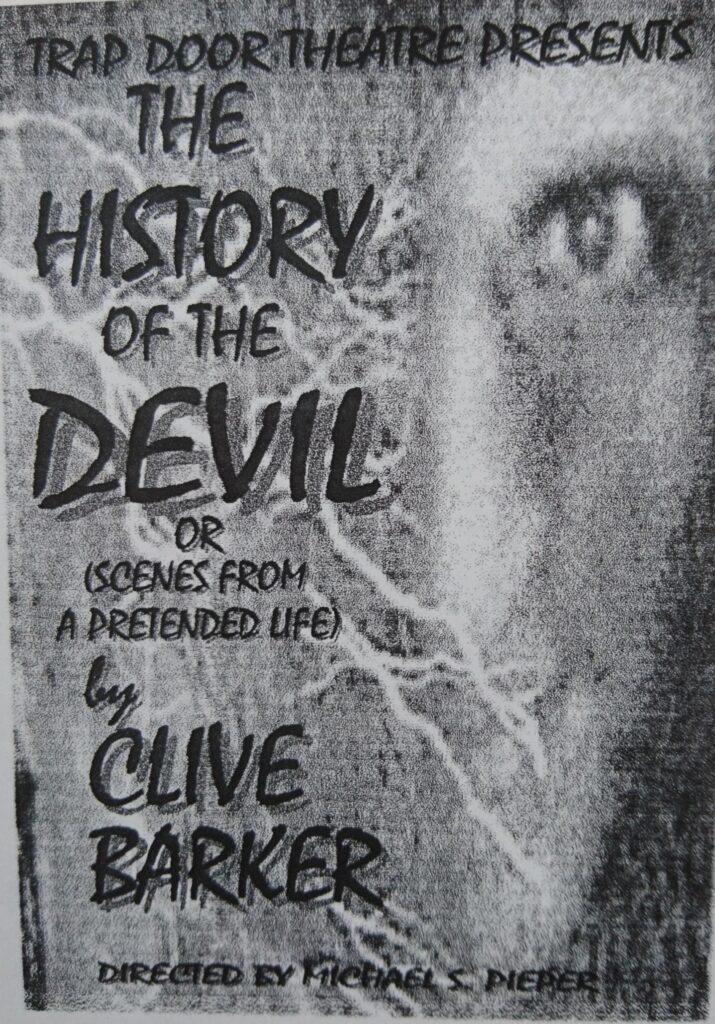 Cast: Anthony Casale, Judy lloyd, Allson Connelly, Tom Bateman, Shannon Farmer, Felicia Chen, Dawn Swick, Michael McEvoy, Peter Espisito, Robert Turner, Mark Singletary, Andy Schoen, and Jennifer Grace.
Playwright
Clive Barker is an English writer, director, actor, and visual artist. Barker wrote such plays as Frankenstein in Love, The History of the Devil, Crazyface and Subtle Bodies, many of which were performed by his theatre group, The Dog Company. He has also written numerous best-selling novels, such as The Great and Secret Show, Waveworld, The Thief of Always, Everville, and many more. He has illustrations and paintings published in two volumes entitled Clive Barker: Illustrator.
Lighting Design: Richard Norwood / Set Design: Michael Pieper Sound Design: Bob Rokos / Costume Design: Michael Pieper
The History of the Devil

Written by Clive Barker
Directed by Michael S. Pieper
June 11 – August 31, 2001

Experience the life of the Devil as he tries to win his way back into Heaven…
The result is a speculative epic peppered with postmodern wisecracks, which Trap Door presents with adroit romanticism.
Brian Nemtusak, The Chicago Reader
Director
Michael S. Pieper has been developing and teaching his method of acting in the Midwest and west coast since 1988. Michael headed up the Acting Program at the Second City Training Center for the last 22 years. He received his Masters of Fine Arts in Directing from the United States International University of San Diego where he also was on the faculty for eight years. He was the Artistic Director of the North Coast Conservatory Theatre in San Diego, the Resident Director/Artistic Associate at the Trap Door Theatre and Artistic Director of the Boxer Rebellion Theatre, both in Chicago. Michael has directed over 98 productions and acted in over 40 productions.