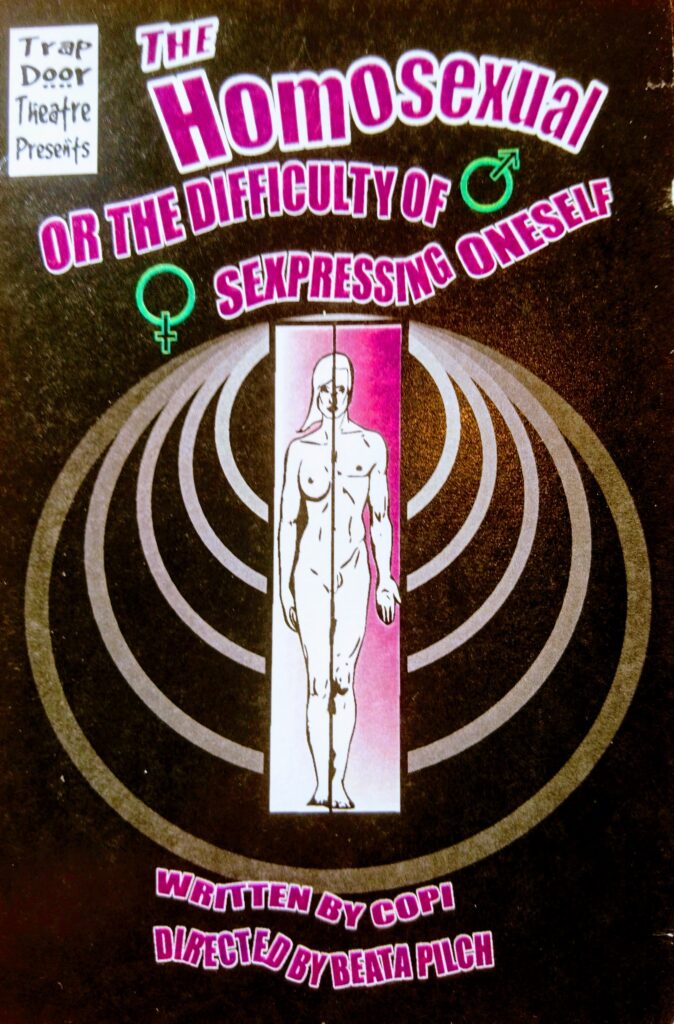 Cast: Patrick Brennan, Michael Matthews, Matt Murdock, Gary Sugarman, and Nicole Wiesner.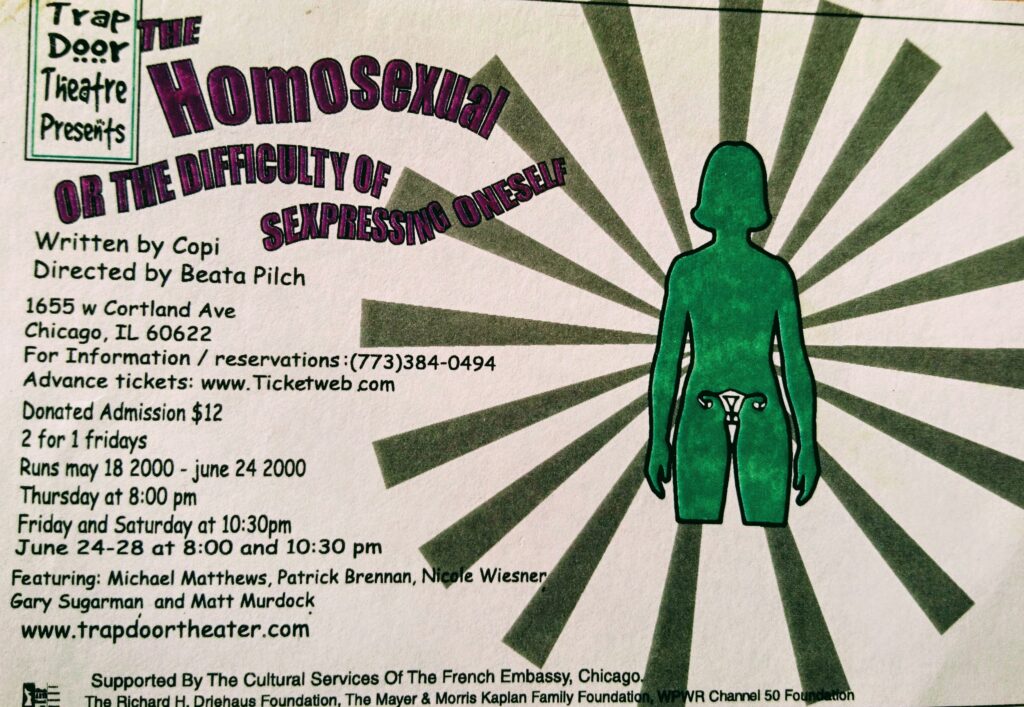 Playwright
Copi is an Argentinean playwright, designer, cartoonist, and writer. Writing in French, his plays are set on the borderline of reality and delirium, historical fact and imaginative interpretation of events. Copi's plays have minimal stage direction, so they can be produced according to the styles of different theatres. He has written such plays as Eva Peron, La Pyramide, La Coupe du Monde, and Le Frigo.
Stage Manager: Lorraine Moquay / Lighting Design: Richard Norwood / Sound Design: Bob Rokos / Set Design: Michael S. Pieper / Costume Design: Imma Curl / Graphic Design: Alex Present
The Homosexual, (or the difficulty of Sexspressing)

Written by Copi
Translated by Anni Lee Taylor
Directed by Beata Pilch
May 18 – June 24, 2000
In Copi's funniest play, full of sexual fantasies and sex changes, a young Mme. Garbo plans her escape from the wolf-infested Russian steppes and from her mother. Sex, in it's most forbidden colors, tears through Russia in bad wigs and spiked heels.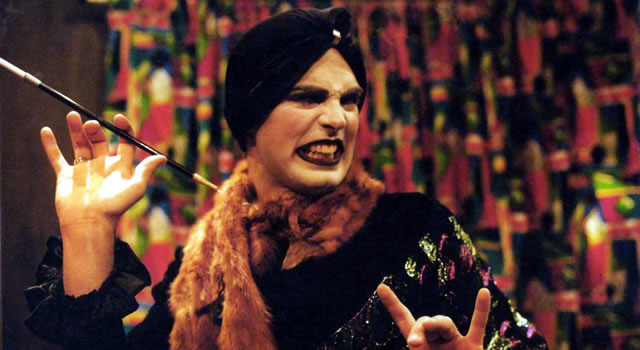 The Homosexual deconstructs the sex drive by reversing genders, expectations and logic."
Lawrence Bommer, The Chicago Reader
Director
Beata Pilch founded Trap Door Theatre in 1994. Originally from Chicago, she holds a BFA in Acting from the United States International University in San Diego and a MFA in Acting from California Institute of the Arts in Valencia, CA. She had the honor to graduate as a magna cum laude from both universities and was later awarded the Prestigious Alumni award from CalArts. Pilch found Chicago's Trap Door Theatre in 1994 and still presides as its Artistic Director. She has directed and performed in over 80 Trap Door productions and has toured abroad annually with the company to France, Romania, Hungary, Poland and was the first US theatre company ever to perform in the Republic of Moldova. In 2015, Beata created a sister company, Trap Door International, which produces out of Barcelona, Spain.