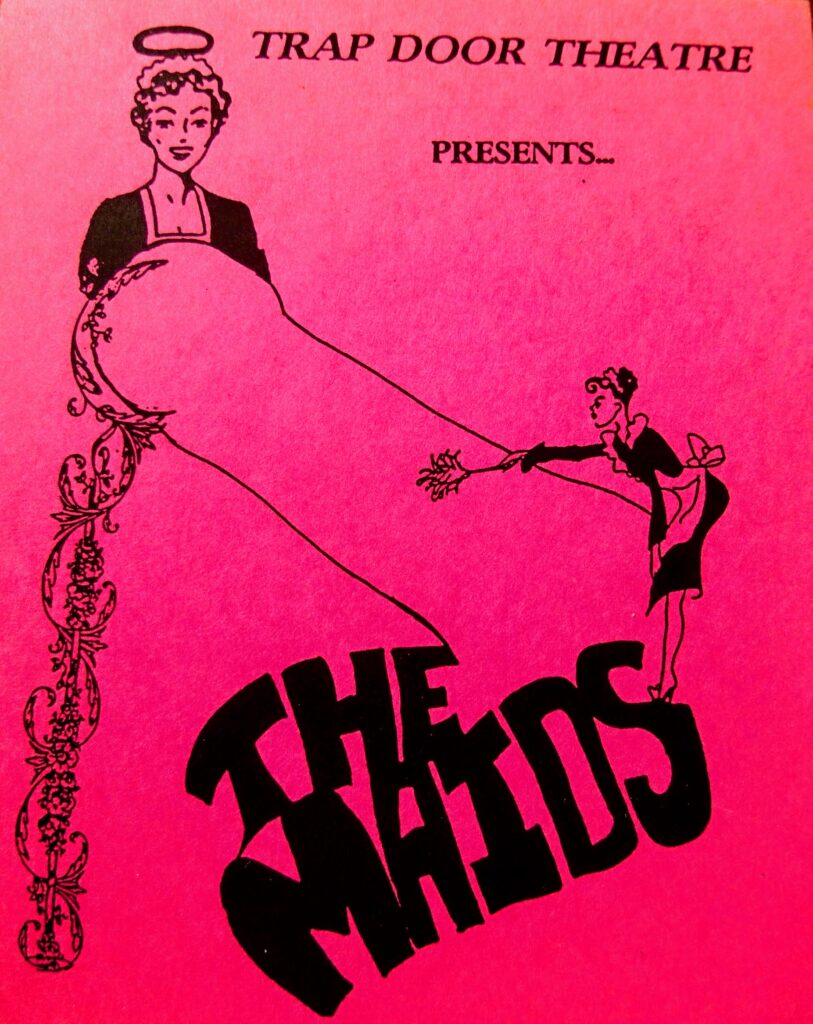 Cast: Anne Fogarty, Sean Judge, and Sean Marlow.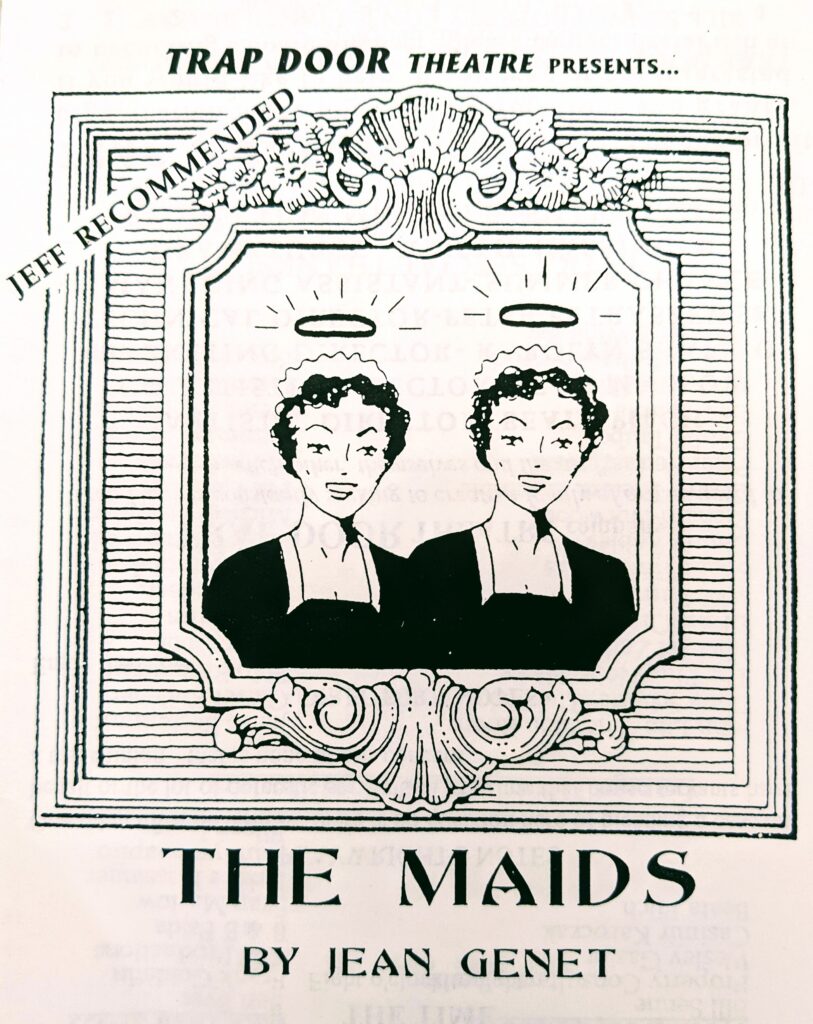 Playwright
Jean Genet was a French playwright, poet, essayist, and political activist. He became a leading figure in the avant-garde theatre, especially the Theatre of the Absurd. His major works include the novels The Theif's Journal and Our Lady of the Flowers, and the plays The Balcony, The Maids, Deathwatch, and The Screens.
Assistant Director: Amy Punt / Scenic Design: Sean Marlow / Costume Design: Tina Howard / Lighting Design: Richard Norwood / Stage Manager: Wendy Walshe / Properties: Cheryl Snodgrass / Sound Design: Peter Petraszewski / Jewelry: Wendy Walshe / Makeup Design: Monique Cooper / Poster Design: Sean Marlow / Consulting: Cheryl Snodgrass
The Maids

Written by Jean Genet
Translated by Bernard Frechtman
Directed by Jeff Goode
February 1996


First performed in Paris in 1947, its action was inspired by a real-life scandal, the murder by two maids, sisters Christine and Lea Papin, of their mistress and her daughter.
The result is surreal and somewhat dizzying…
Catey Sullivan, Nightlines
This neoclassic tragedy, presented in an edgy, circus-like absurd staging by the adventurous Trap Door, takes the idea of reality versus illusion and buries it in so many layers of deceit that no one involved can settle into fearless complacency.
Lucia Mauro, The New City
Director
Jeff Goode is a director, actor and author of over 40 plays, musicals and children's shows including The Eight: Reindeer Monologues, Portrait of the Virgin Mary Feeding the Dinosaurs, Lesbian's Last Pizza, Ring Cycle!- The Musical, Larry and the Werewolf, Dead Panther Cabaret, Narcissus and Echo, The UBU Plays, and The Maids for the Trap Door Theatre. His published plays include the dark Christmas comedy, The Eight, and the "revolutionary" children's trilogy, The UBU Plays , both published by Baker's plays in Boston. His work also appears in several of the "Best Monologues" books published by Smith & Kraus, including excerpts from Lesbian's Last Pizza, Portrait of the Virgin Mary Feeding the Dinosaurs and Narcissus & Echo.
Jeff is a co-founder of the original No Shame Theatre (Iowa City), and a founding member company member of The Unusual Cabaret (Bar Harbor, Maine) and Pantechnicon Artworks (Chicago, IL). A cornfed Iowa youth, Jeff moved to California to become a decadent screenwriter. He has written pilot scripts for MTV ( Bloody Hell and Undressed) and Canal Plus (Smash! World.)