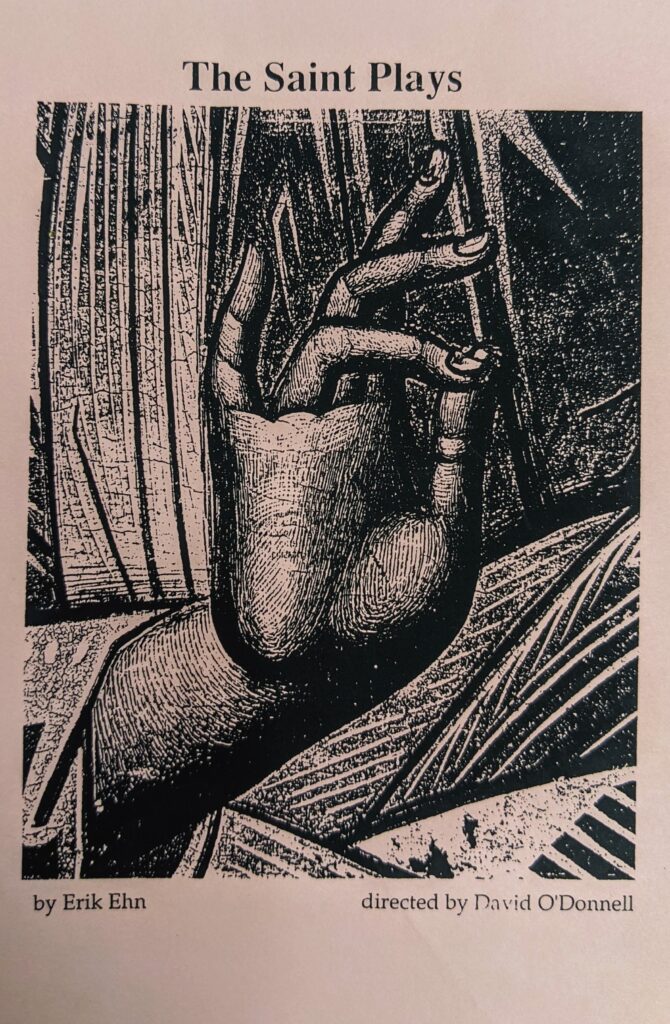 Cast: Summer Chance, Michael Claypool, Howie Cohen, Erin Flynn, Tom Lynch, Allison Silverman, and Rebecca Tennison.
Playwright
Erik Ehn is an American playwright, theorist, and director. His published works include The Saint Plays, Beginner, Maria Kizito, Heavenly Shades of Night are Falling, and 13 Christs. Ehn's Soulographie: Our Genocides, a series of 17 plays, was presented as a two-day marathon at La MaMa in 2012, many of which involve puppetry.
The Saints

Written by Erik Ehn
Directed by David P. O'Donnell
November 1995
Erik Ehn, a playwright based in the San Francisco Bay Area, has created a long-term project for himself: to write a play for every Saint. In this triptych, specifically directed for the Trap Door ensemble, included are Wholly Joan's (Joan of Arc), Incide (based on Judas the Martyr) and Locus (version of John the Baptist). Ehn has brought his experimental style to the ranks of the canonized, combining modern takes on martyrdom with the traditional stories of the Saints. Various incarnations of The Saint Plays have been produced in New York, California and Seattle. This was a midwest premiere of three of the plays in a workshop production.
It's a powerful reminder of what has made Trap Door the vital off-Loop fixture that it is."
Nick Green, The Chicago Reader
Director
David P. O'Donnell, a local director, puppeteer, and company member of Redmoon Theater directs three short Saint Plays: Wholly Joan's, Incide (a rare Ehn piece that explores the story of Judas, decidedly not a saint, but with the characteristics of a martyr), and Locus (a version of the John the Baptist story that includes appearances by Jim Thorpe, Buddy Holly, and Elvis).
Builders associated with Redmoon Theatre created the puppets and masks used in this production.