Cast: Beata Pilch, Sean Marlow, Nicole Wiesner, Wesley Walker, Michael McEvoy, Derek Brummet, Carl Wisniewski, Christina Elias and Garrett Prejean.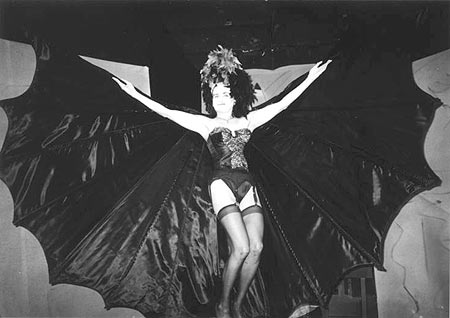 Playwright
Stanisław I. Witkiewicz is one of the most brilliant figures of the European avant-garde. He was a poet, painter, playwright, an expert on drugs, an early spokesman for a radically non-realistic theatre and an original philosopher and social critic of mass culture, post-industrial society, and the rise of totalitarianism. He was also a pioneer in serious experimentation with narcotics and prophetically recognized the growing importance that they would have on Western civilization. Politics, revolution, and even art were similar "drugs." Witkiewicz committed suicide in September of 1939, days after Poland was invaded by both: Nazi Germany and Communist Russia. He is best known for his plays The Madman and the Nun, The Mother, The Water Hen, The Anonymous Work, and The Shoemakers.
Sound Design: Bob Rokos / Lighting Design: Richard Norwood / Set Design: Sean Marlow / Costume Design: Beata Pilch & Imma Curl
The Shoemakers

Written by Stanislaw I. Witkiewicz
Translated by Daniel C. Gerould
Directed by Sean Marlow and Beata Pilch
October 25 – December 8, 2001

In his prescient 1934 play The Shoemakers, Stanisław I. Witkiewicz, Poland's greatest modern playwright, wittily demonstrates that communist and fascist dictatorships are the same. That kept it off the stage in Poland until 1965. The play is a "comedy with corpses". First produced in 1934 in a Europe careering into crisis, the play's apparent point was to argue that even the strongest political ideology is no match for human decadence. A grotesque vision of Europe and a dark prophecy about the world of the future.
The Shoemakers, although left unfinished due to the author's suicide, is considered the best Witkacy's work for the theatre. The last decade of Witkacy's life and work (1930–1939), coinciding with a difficult period for the whole of Europe as well, was full of pessimism and anxiety. The artist saw the waking demons of totalitarianism and feared for a bleak future – the play The Shoemakers perfectly discloses the atmosphere of that time.
Directors Beata Pilch and Sean Marlow have the style, as well as the viciously disturbing yet delicious imagery down. The cast brings Witkacy's dead creatures to marvelous life.
Kate Zambreno, The New City Review 
Trap Door's staging is dense, surreal, slyly self-referential, and gleefully bizarre."
Kelly Kleiman, Chicago Reader
Directors
Beata Pilch founded Trap Door Theatre in 1994. Originally from Chicago, she holds a BFA in Acting from the United States International University in San Diego and a MFA in Acting from California Institute of the Arts in Valencia, CA. She had the honor to graduate as a magna cum laude from both universities and was later awarded the Prestigious Alumni award from CalArts. Pilch found Chicago's Trap Door Theatre in 1994 and still presides as its Artistic Director. She has directed and performed in over 80 Trap Door productions and has toured abroad annually with the company to France, Romania, Hungary, Poland and was the first US theatre company ever to perform in the Republic of Moldova. In 2015, Beata created a sister company, Trap Door International, which produces out of Barcelona, Spain.
Sean Marlow was the co-founder of the Trap Door Theatre. Originally from Atlanta, GA, he received his Bachelor of Fine Arts in acting from U.S. International University in San Diego, CA. and continued with his graduate studies at the University of Missouri-Kansas City. In the early years of Trap Door, he has acted, directed and designed over a dozen shows.