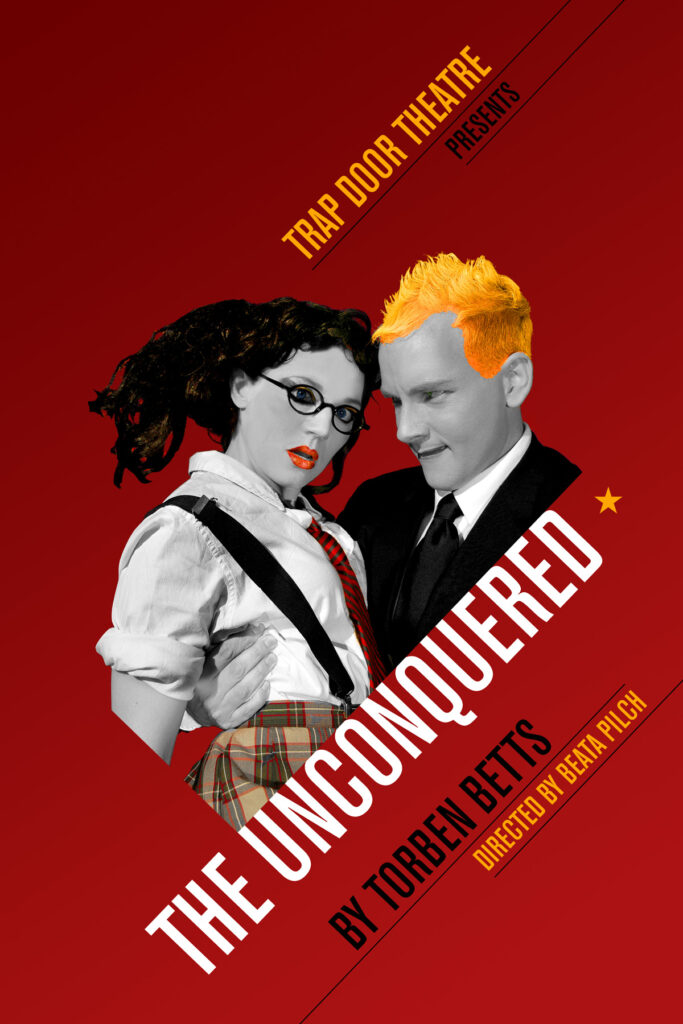 Cast: Tiffany Bedwell, John Kahara, Kevin Lucero Less, and Beata Pilch.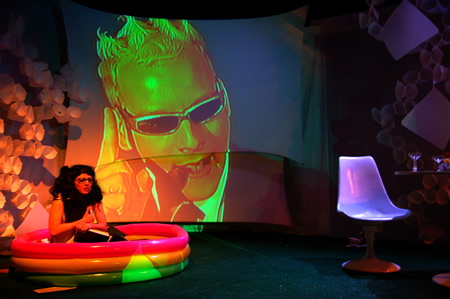 Playwright
Torben Betts is an English playwright. He has written many plays, such as The Optimist, Her Slightest Touch, The Swing of Things, A Listening Heaven, Incarcerator, and many more. Betts has been hailed as a successor to such writers as Sir Alan Ayckbourn and Howard Barker. His play, The Unconquered, was "Best New Play" in the 2006 Critics Award for Theatre in Scotland.
Set Design: Andrew Holder & Ben Freyinger / Sound Design: Bob Rokos / Costume Design: Sir Iris Bainum-Houle / Lighting Designer: Gina Patterson / Film: Carrie Holt de Lama / Choreography: Lindsay-Rose Kane / Fight Choreography: Andrew Luckenbill / Makeup Design: Zsofia Otvos / Graphic Design: Michal Janicki/ Dramaturge: Milan Pribisic / Stage Manager: Gary Damico
The Unconquered

Written by Torben Betts
Directed by Beata Pilch
November 13, – December 19, 2008
Presented with support from The Trust of Mutual Understanding.
About a fiercely intelligent young girl and her relentless refusal of the establishment.
The impeccable ensemble churns out the insanity with unflinching focus and impeccable characterizations. There is NOTHING natural about this production and the cast delivers the toxic artificial ingredients to bizarre perfection."
Venus Zarris, Gay Chicago Magazine
A promising absurdist satire…
Monica Westin, New City
Amid superficially edgy dreck glimmer gems of the truly unexpected.
Time Out Chicago 
Recommended!
Tony Adler, The Chicago Reader 
Highly Recommended!
ChicagoTheatreCritic.com
… Trap Door's stated mission is to seek out challenging yet obscure works and bringing them to life, and in this they have succeeded. progress is certainly the most challenging piece of theater I've seen this season, both in the demands it makes on the actors, and the demands it makes on the audience to embrace the emotional weight of other people's suffering. Highly Recommended.
J.H. Palmer, Chicago Theater Beat
Director
Beata Pilch founded Trap Door Theatre in 1994. Originally from Chicago, she holds a BFA in Acting from the United States International University in San Diego and a MFA in Acting from California Institute of the Arts in Valencia, CA. She had the honor to graduate as a magna cum laude from both universities and was later awarded the Prestigious Alumni award from CalArts. Pilch found Chicago's Trap Door Theatre in 1994 and still presides as its Artistic Director. She has directed and performed in over 80 Trap Door productions and has toured abroad annually with the company to France, Romania, Hungary, Poland and was the first US theatre company ever to perform in the Republic of Moldova. In 2015, Beata created a sister company, Trap Door International, which produces out of Barcelona, Spain.