the word progress on my mother's lips doesn't ring true
Written by Matei Vișniec
Translated by Joyce Nettles
Directed by István Szabó K.
This production has received a Joseph Jefferson Award for "Best Original Incidental Music" by Ovidiu Iloc
Supported by
Trust for Mutual Understanding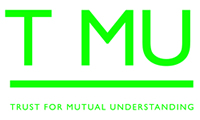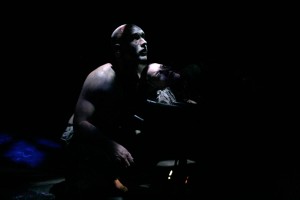 December 1, 2011 – January 28, 2012
Guest director István Szabó K. captures the signature comic/tragic surrealism of Matei Vișniec's the word progress on my mother's lips doesn't ring true. Winner of the "Best Play in the Off-section" at the Avignon Festival in 2009 this American premiere delves into the pits of refugee psyche, a metaphysical space where one continuously runs from a place with nothing left, to a place with nothing to offer.
Trap Door's 2012 season was named "The Best String of Theatrical Stunners" – Chicago Reader
"HIGHLY RECOMMENDED!" – Hedy Weiss, Chicago Sun-Times

"This Trap Door Theatre production is relentlessly provocative, impossibly beautiful, and apt to haunt you long after it ends. Recommended!" – Justin Hayford, Chicago Reader
"Trap Door has long been the go-to venue in town for European avant-garde drama, but this production is the finest I've yet seen from these indispensable stalwarts of the storefront. It isn't afraid to be emotionally accessible — if you've been tempted to try one of their shows, make it this one. **** (4) stars!" – Kerry Reid, Chicago Tribune
Cast: Antonio Brunetti, Wladyslaw Byrdy, Malcolm Callan, Simina Contras, Kevin Cox, John Kahara, Beata Pilch, and Nicole Wiesner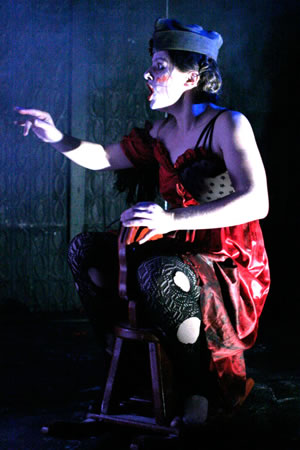 ABOUT THE PLAYWRIGHT:
Matei Vişniec
playwright, poet and journalist, was born in Romania, and now lives in Paris. He began writing for the theatre in 1977. Early in his career Vişniec's plays were banned by the Romanian censors. In 1987 he was invited to France by a literary foundation. While there,
he asked for and received political asylum. After the fall of communism in Romania, in 1989, Vişniec became one of the most performed playwrights in the country. Vişniec gained international attention in 1992, with productions of Horses at the Window in France, and Old Clown Wanted at the "Bonner Biennale". Since then, Matei Vişniec's work has been produced in France, Germany, United States, Denmark, Austria, Poland, Finland, Italy, Turkey, Brazil, Romania, and Moldavia. Most recently, by a decree signed by French President Emmanuel Macron, Matei Vişniec became a Knight of the National Order of Merit.
ABOUT THE DIRECTOR:
István Szabó K. was born in Romania and has worked throughout Romania, Hungary and Germany. He graduated from the University of Targu Mures, Romania in 2000. He has served as the Theatre Director of the Hungarian State Theatre in Timisoara, and the Young Theatre in Piatra Neamt. At the Tomcsa Sandor Theatre in Odorheiu Secuiesc he held several positions, including Artistic Director, General Manager and the Theatre Director. Szabó has also worked as the Resident Director at the Arca Independent Theatre in Bucharest, and the Artistic Director of Szigligeti Hungarian State Theatre in Oradea. Most notable productions include The Could Child at the Radu Stanca National Theatre in Sibiu, Edward at the Romanian National Theatre in Timisoara, The Temptation at Euro Theater Central in Bonn and Mausoleum at the Hungarian State Theatre in Oradea. Awards for his directorial work include: The Imagine International Festival for The Wedding, Top Fest National Festival for Le Enfant Terribles and the Interethnic Theatre Festival "Press Prize" for Teibale and her Demon.