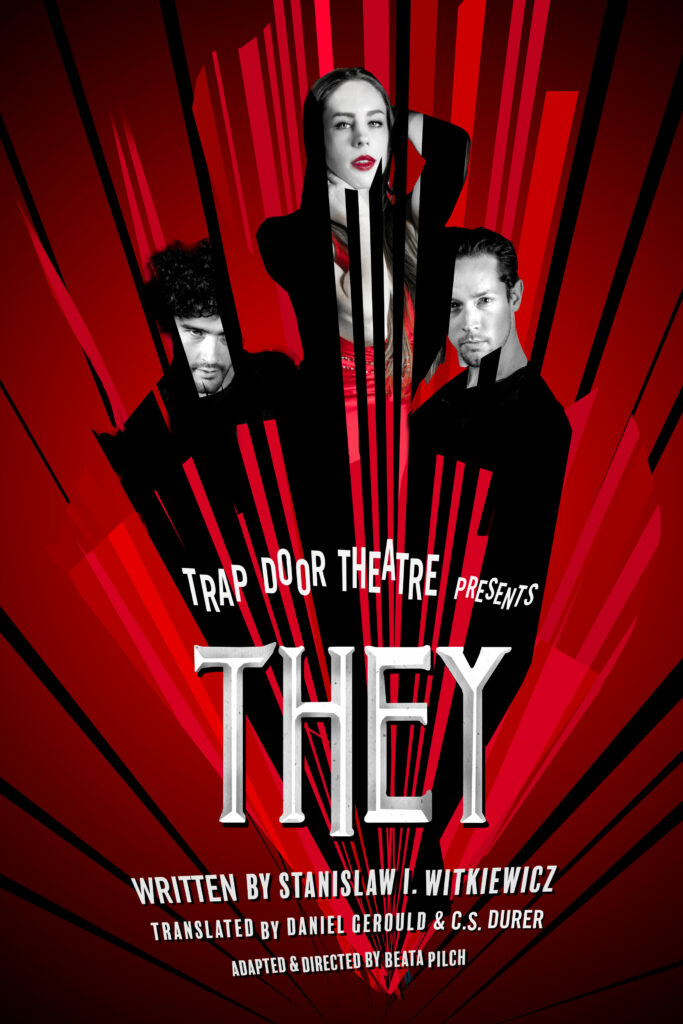 Cast: Mary-Kate Arnold, Daniel Chenard, Halie Ecker, Adam Huizenga, and Carl Wisniewski
Playwright
Stanisław I. Witkiewicz is one of the most brilliant figures of the European avant-garde. He was a poet, painter, playwright, an expert on drugs, an early spokesman for a radically non-realistic theatre and an original philosopher and social critic of mass culture, post-industrial society, and the rise of totalitarianism. He was also a pioneer in serious experimentation with narcotics and prophetically recognized the growing importance that they would have on Western civilization. Politics, revolution, and even art were similar "drugs." Witkiewicz committed suicide in September of 1939, days after Poland was invaded by both: Nazi Germany and Communist Russia. He is best known for his plays The Madman and the Nun, The Mother, The Water Hen, The Anonymous Work, and The Shoemakers.
Assistant Director: Sami Ismat / Sound Design: Danny Rockett / Lighting Design: Richard Norwood / Set Design: Stefan Roseen / Art Installer: Michael Garvey / Costume Design: Rachel Sypniewski / Graphic Design: Michal Janicki / Dramaturge: Milan Pribisic / Video Design: David Holcombe / Stage Managers: Gary Damico and Pelle Melio
"Show within a Show"
– Curated by Zsofia Otvos
Accentuating the plays commentary on art and civil society in a 'normalized' world, director Beata Pilch staged THEY in an art gallery. This created a unique opportunity for resident makeup artist and figurative painter Zsofia Otvos to create a "Show within a Show." Otvos who shows her own work at galleries throughout Chicago put a call out for local artists to exhibit their work as the set of the play. The artists responded and submitted numerous provocative works, creating a dynamic backdrop to the action on stage, thereby adding dimension and urgency to the plays message.
The exhibiting artists: Kevin Moeller, Brian Morgan, Marzena Bukowska, Robin Rios, CJ Hungerman, Lovietta Simpkins, George Bowles, Poppy G, Bernadette Zawiesjska, Michael Garvey, Richard Norwood, Mark Zender, Zack Wirsum, Arts Zawitkowska, Zsofia Otvos, Alex XII- Paintings/artwork.
THEY
Written by Stanisław I. Witkiewicz
Translated by Daniel Gerould and C.S. Durer
Adapted and Directed by Beata Pilch
December 07, 2017 – January 13th, 2018

"THEY are running everything but no one knows who THEY actually are?" Using the text of Stanisław Witkiewicz, THEY examines who THEY are and if the secret government really exists.Tragically follows how the beauty in love and art is poisoned by the toxic remedy of normalization and the destruction of freedom and imagination.
Pilch's pared-down adaption is highly energetic and amusing…
Jacob Davis, Around the Town
Trap Door, now in its 24th season, always creates startling theater, which is exciting, sometimes bizarre, but never boring.
Nancy Bishop, Third Coast Review
It's a big deal that Trap Door Theatre has revived this black-comic satire by Polish polymath Stanisław Ignacy Witkiewicz.
Tony Adler, Chicago Reader
Director
Beata Pilch founded Chicago's Trap Door Theatre in 1994 and still presides as its Artistic Director. Originally from Chicago, she holds a BFA in Acting from the United States International University in San Diego and a MFA in Acting from California Institute of the Arts in Valencia, CA. She had the honor to graduate as a magna cum laude from both universities and was later awarded the Prestigious Alumni award from CalArts. She has directed and performed in over 80 Trap Door productions and has toured abroad annually with the company to France, Romania, Hungary, Poland and was the first US theatre company ever to perform in the Republic of Moldova. In 2015, Beata created a sister company, Trap Door International, which produces out of Barcelona, Spain.