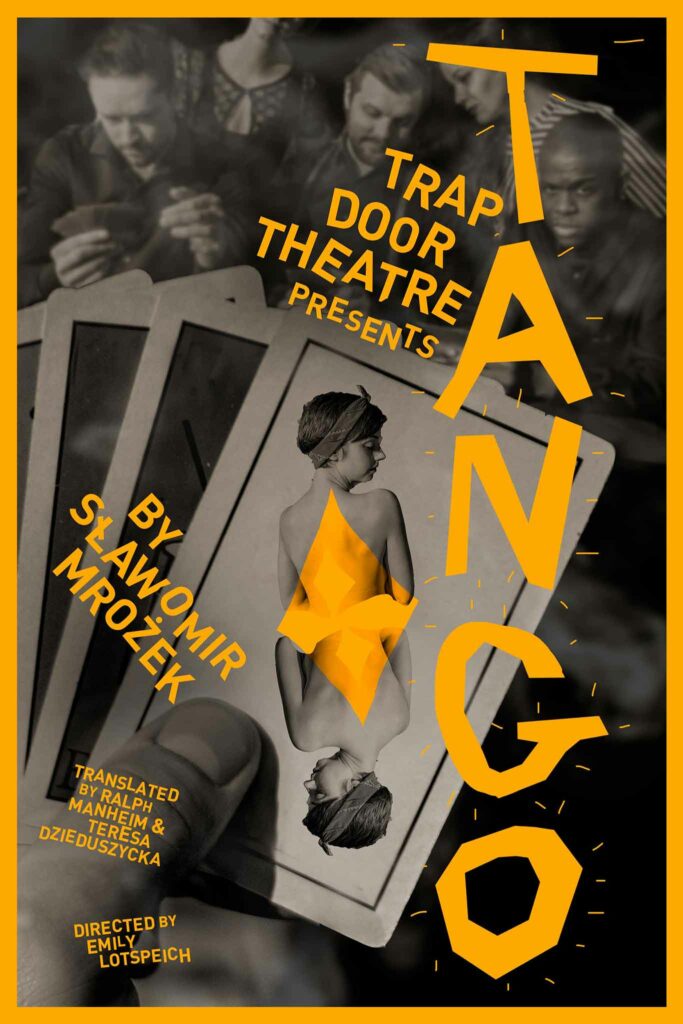 Cast: Dennis Bisto, Adam Huizenga, Logan Hulick, Katelyn Lane, Joan Nahid, Emily Nichelson, and Keith Surney.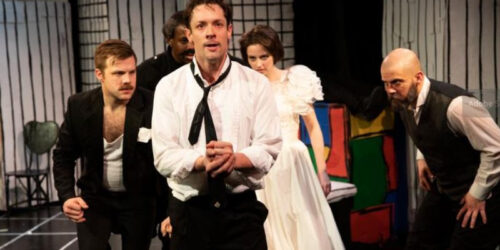 Playwright
Sławomir Mrożek was a Polish playwright born in 1930 in a small town near Kraków. He started his professional career as a cartoonist and journalist and later on wrote many grotesque stories. His first play, The Police (1958), is a Kafkaesque parable and was followed by a series of political, critical allegories cloaked in absurdist comedy such as Out at Sea (1961), Striptease (1961) and The Party (1963). His most famous play from this period is Tango, which had its world premiere in Belgrade, Yugoslavia, in January 1965. That same year, famous Polish critic Jan Kott observed that while Stanisław Ignacy Witkiewicz and Witold Gombrowicz, Mrożek's dramatic predecessors, were ahead of their time, Mrożek has arrived right on time both in Poland and in the West. Some perceived Mrożek as a kind of Polish Ionesco as his plays poke absurdist fun at contemporary mores and life in the 20th century communist-dominated Poland. He emigrated to France in 1963 and lived in Italy and Mexico before returning to Poland after the fall of communism. While his plays were periodically banned in Poland, they were performed in the cities around the world including New York City, where they were produced several times off-Broadway and at La MaMa Theatre Club. Among other plays written by Mrożek are Vatzlav (1972, produced at Trap Door Theatre in 2014), The Emigr's (1974), The Ambassador (1981), Alpha (1984) and Love in the Crimea (1994). He died in France in 2013.
Set Design: Jacqueline Frole / Costume Design: Rachel Sypniewski / Sound Design: Danny Rocket / Lighting Design: Richard Norwood / Graphic Design: Michal Janicki / Dramaturge: Milan Pribisic / Assistant Director: Nora Lise Ulrey
Tango
Written by Sławomir Mrożek
Translated by Ralph Manheim and Teresa Dzieduszycka
Directed by Emily Lotspeich
February 21 – March 30, 2019
In this hilarious satire, the dangers inherent in contemporary society are inscribed in a universal story of how conformity, anarchy and formalism can come into conflict between generations.
Besides their physical talents, the actors are also adept at shifting between their characters' self-conscious performances as liberated free-thinkers and their gnawing existential angst.
Jacob Davis, Around the Town Chicago
Utterly committed performances from a standout cast…
Dmitry Samarov, Chicago Reader
…as always at the Eastern European-influenced company, bold staging devices, high energy, and a deep-seated sympathy for those trying to make meaning amid chaos abound.
Jacob Davis, Around the Town Chicago
Director
Emily Lotspeich was born in Cincinnati, where she was fortunate enough to attend the television noted School for Creative and Performing Arts from grades 4-12. There she majored in acting, directing, creative writing and oboe. She came to call Chicago home when she moved here to further her theater education at Depaul University. Her Trap Door director credits include Universal Wolf and a staged reading of Made In Poland at last year's International Voices Project. Trap Door assistant director credits include Beholder and the twentieth-anniversary celebratory remount of R. W. Fassbinder's Blood on the Cat's Neck. Trap Door acting credits include Monsieur D'eon Is A Woman, Sad Happy Suckers, Locketeer, Phaedra, Fantasy Island For Dummies, The Duchess of Malfi, AmeriKafka, 12 Ophelias and Anger/Fly. Trap Door stage manager credits include Ten Tiny Fingers, Nine Tiny Toes, and How To Explain The History Of Communism To Mental Patients which toured in Hungary and Romania. In addition to Trap Door, Lotspeich has worked with Prop Thtr, Silent Theatre Company, Polarity Ensemble Theatre and Cornservatory.