The Old Woman Broods
Written by Tadeusz Rózewicz
Translated by Chris Rzonca and Krystyna Illakowicz
Directed by Nicole Wiesner
December 13, 2018 – January 26, 2019
… brilliantly directed and performed.. Trap Door once again proves itself to be the best place in town to see avant-garde theatre.—Karen Topham, Chicago OnStage
The entire production is tightly blocked and choreographed by director Nicole Wiesner. —Nancy Bishop, Third Coast Review

"…if you're a fan of this theater's work, director Nicole Wiesner's staging will hit the spot." — Kerry Reid, The Chicago Tribune

…Manuela Rentea commands the room in the role of the Old Woman… —Mary Shen Barnidge, Windy City Times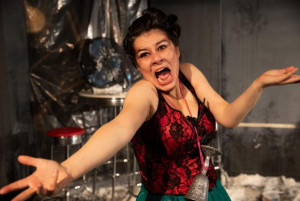 The cast includes Dennis Bisto, Anna Klos, Miguel Long, David Lovejoy, Michael Mejia, Emily Nichelson, Manuela Rentea, Keith Surney and Carl Wisniewski.
Tadeusz Rózewicz (playwright) was a Polish poet and playwright born in 1921 in Radomsko. His work combines elements of the Polish avantgarde and the Theater of the Absurd. He developed an interest in writing and publishing his writings early on. He joined the Polish resistance against the Nazis under a partisan name Satyr and made use of his wartime experiences in his first two volumes of poems, Anxiety (1947) and The Red Glove (1948). In the 1960s, he began writing plays including The Card Index (1961), The Witnesses, or Our Little Stabilization (1962) and The Old Woman Broods (1969). In the 1970s and 1980s, his plays changed course. They deal with a strange evolution of the 20th century focusing on powerful historical figures, such as Franz Kafka. These plays still use fragmentation and collage as in his earlier plays, but they also see the stage as a public arena and workplace of provocation and controversy. The best-known titles of this period include Dead and Buried (1972), White Wedding (1975), The Hunger Artist Departs (1976) and The Trap (1982). Rózewicz also wrote novels, short stories, and works of nonfiction. He died in 2014 at the age of 93.
Nicole Wiesner (director) has been a member of Trap Door Theatre since 1999. Her directing credits include Mark Brownell's Monsieur D'eon is a Woman, Jean Racine's Phedre, Meg Miroshnik's Fairytale Lives of Russian Girls, and Howard Barker's Minna. Her favorite Trap Door acting credits include First Ladies (dir. Zeljko Djukic, Joseph Jefferson Citation: Outstanding Actress); OVERWEIGHT; unimportant: MISSHAPE (dir. Yasen Peyankov); and the title roles in The Bitter Tears of Petra Von Kant and Nana (dir. Beata Pilch); and Alice in Bed (dir. Dado). Other credits include 2666 (dir. Seth Bockley and Robert Falls), Shining City (dir. Robert Falls); Passion Play (dir. Mark Wing-Davy, After Dark Award, Outstanding Performance) at the Goodman Theatre; The Book Thief (dir. Hallie Gordon), South of Settling (dir. Adam Goldstein), and Dublin Carol (dir. Amy Morton) at Steppenwolf Theatre; Shining City (dir. Robert Falls) at the Huntington Theatre in Boston; Passion Play (dir. Mark Wing-Davy) at Yale Repertory Theatre; Passion Play (dir. Mark Wing-Davy) at the Epic Theatre in NYC; Dying City (dir. Jason Loewith) at Next Theatre, and Great Men of Science (dir. Tracy Letts) at Lookingglass Theatre.
The production crew includes assistant director Skye Fort, set designer J. Michael Griggs, lighting designer Richard Norwood, costume designer Rachel Sypniewski, original music by and music director Danny Rockett, makeup designer Zsofia Otvos, graphic designer Michal Janicki, dramaturg Milan Pribisic, and stage manager Shannon Rourke.