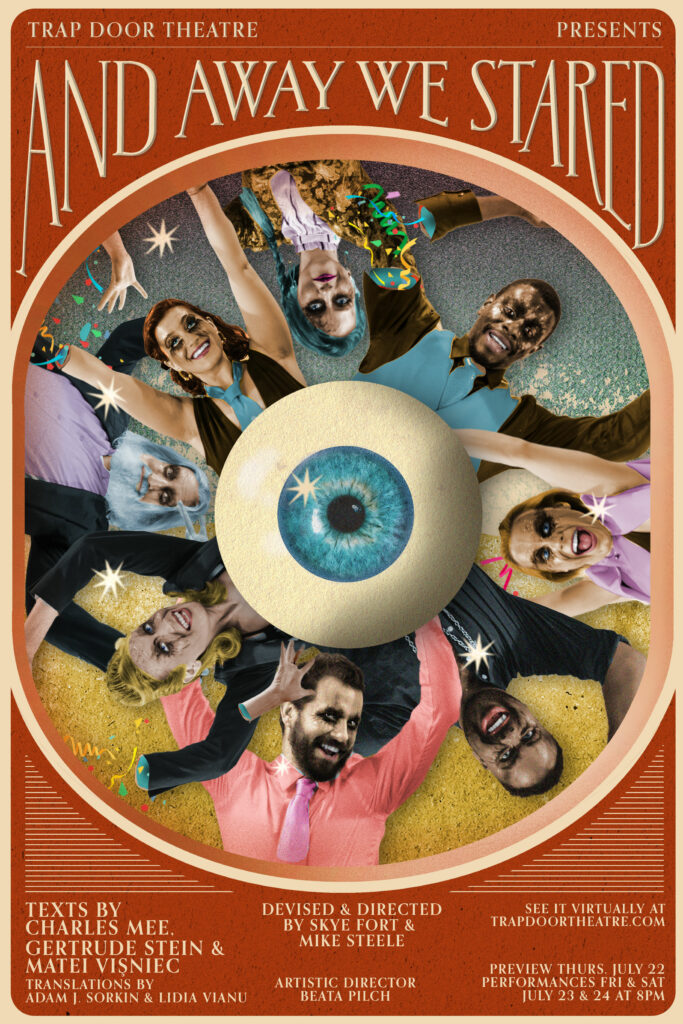 Cast: Maryam Abdi, Dennis Bisto, Holly Cerney, Miguel Long, David Lovejoy, Emily Nichelson, Keith Surney, and Bob Wilson.
Director(s)
Skye Fort is a director, performer, and musician originally from New Mexico, currently in Maryland, and back in Chicago for the summer. She spent 8 years in Chicago, and is a proud member of Trap Door Theatre, where she has directed, acted, and stage managed, among other roles. Previous directing credits include Discourse Without Grammar (Trap Door Theatre), Strange As It Seems (Tricklock Theatre, Abq NM), and Childhood Beauty (Trap Door Theatre). Skye is a founding member of the performance art group So This Is Art, and plays bass in the bands Big Mermaid, and The Garvey Train. She is currently pursuing an MFA at Towson University, where her focus is on directing and video performance.  Skye is interested in exploring new ways to communicate, collaborate, and create, both in and out of a global pandemic.
Interview with the directors from Barbara Keer of Splash Magazine:
Set/Props Designer: Kellie Wyatt / Costume Designer: Rachel Sypniewski / Lighting Designer: Richard Norwood / Makeup Designer: Zsofia Otvos / Stage Manager: Natalia Kliszczyk and Caitlyn Birmingham / Graphic Designer: Michal Janicki / Sound Designer: Mike Steele / Composer: Emily Nichelson / Assistant Audio Engineer: Danny Rockett / Live Streamer: Jimmy Marco / Camera Operator: Skye Fort
And Away We Stared

Texts by Charles Mee, Gertrude Stein, and Matei Vişniec (with translations by Adam J. Sorkin and Lidia Vianu)
Devised and Directed by Skye Fort and Mike Steele
July 23 – July 24, 2021
Preview July 22nd, and Ongoing Virtually
In the absence of humans, the stage has gained the ability to put on mechanized performances to please only itself. Using text from the works of Chuck Mee, Gertrude Stein, and Matei Vişniec, in a series of theatrical dares, the actors of Trap Door Theatre will attempt to retake the stage, confronting notions of live performance, automation, and the cycles we perpetuate.
The theater is committed to "seeking out challenging yet obscure works and bringing them to startling life on stage" and they've succeeded here.
Nancy S. Bishop, Third Coast Review
"And Away We Stared" is haunting and compelling.
Barbara Keer, Splash Magazine
Director(s)
Mike Steele is a director, performer, writer and proud member of Trap Door Theatre currently residing in Austin, Texas. Recent directing credits include poolboy00 by Sam Mayer (UT Austin), OCD by Hee-Won Kim (UT Austin), The Killer by Ionesco (Trap Door Theatre), Sad Happy Sucker by Lee Kirk (Trap Door Theatre), and The Capillaries (Links Hall). Mike is also the former founding Artistic Director of The Island Theatre of Chicago. With The Island he led the creation of several original theatrical events including Tourist Trap and The Glass Inward. Recently, Mike has been developing an immersive performance piece titled High Strangeness dealing with belief, aliens, spirituality, mischief and fakery. Also an actor, Mike has performed with numerous companies both in Chicago and regionally. He plays trumpet sometimes with The Garvey Train and is currently pursuing an MFA in directing at The University of Texas at Austin.