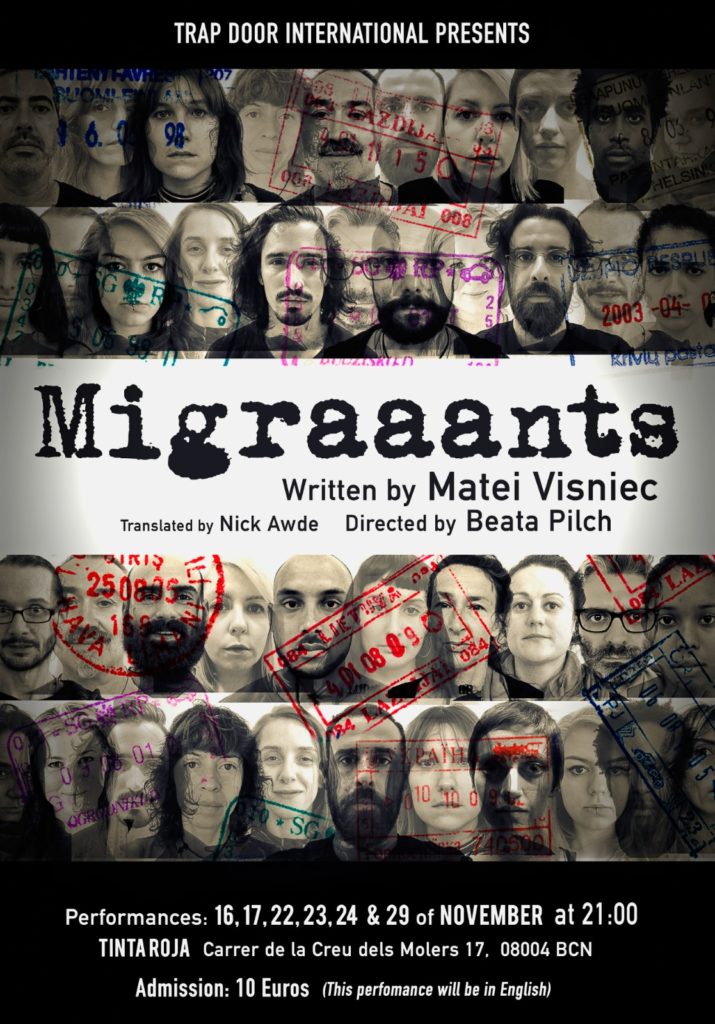 From the terrifying details of water crossings, to the absurdities of the surrounding politics and the hypocrisy of those who profit from them, to the everyday lives of the people caught in the middle, Matei Visniec's dark comedy Migraaaants! takes on multiple perspectives of the current migrant situation.
Trap Door International was honored to receive and perform for the refugee youth organization, Eduvic, from the Kiriku Center in Barcelona.
The performance of MIGRAAANTS was invited to the festival in Moldova for the fall of 2020, but due to the pandemic, all events had to be postponed. Ironically, forced to produce virtual theatre in order to keep a presence in these times, created an amazing opportunity for both ensembles: Chicago and Barcelona to come together in a unique collaboration and performance platform. The TDI team participated in Trap Door's first ever digital performance, ALAS, which aired on July 31, 2020. The production of ALAS, written by Matei Visniec, translated by Daniela Silindean, was adapted and directed by Chicago ensemble member, Michael Mejia, literally working with actors around the globe. Regardless (or perhaps, in spite) of the current world's struggle, both of these dedicated and talented ensembles were able to meet and unite, making beautiful and important art under one 'roof.'? A trap roof…
Playwright
Matei Vişniec (playwright, poet and journalist) was born in Romania, and now lives in Paris. He began writing for the theatre in 1977. Early in his career Vişniec's plays were banned by the Romanian censors. In 1987 he was invited to France by a literary foundation. While there, he asked for and received political asylum. After the fall of communism in Romania, in 1989, Vişniec became one of the most performed playwrights in the country. Vişniec gained international attention in 1992, with productions of Horses at the Window in France, and Old Clown Wanted at the "Bonner Biennale". Since then, Matei Vişniec's work has been produced in France, Germany, United States, Denmark, Austria, Poland, Finland, Italy, Turkey, Brazil, Romania, and Moldavia. Most recently, by a decree signed by French President Emmanuel Macron, Matei Vişniec became a Knight of the National Order of Merit.
Migraaants!
Written by Matei Visniec
Translated by Nick Awde
Directed by Beata Pilch
Barcelona, Spain
November 17th – 29th, 2018: Tinta Roja, Barcelona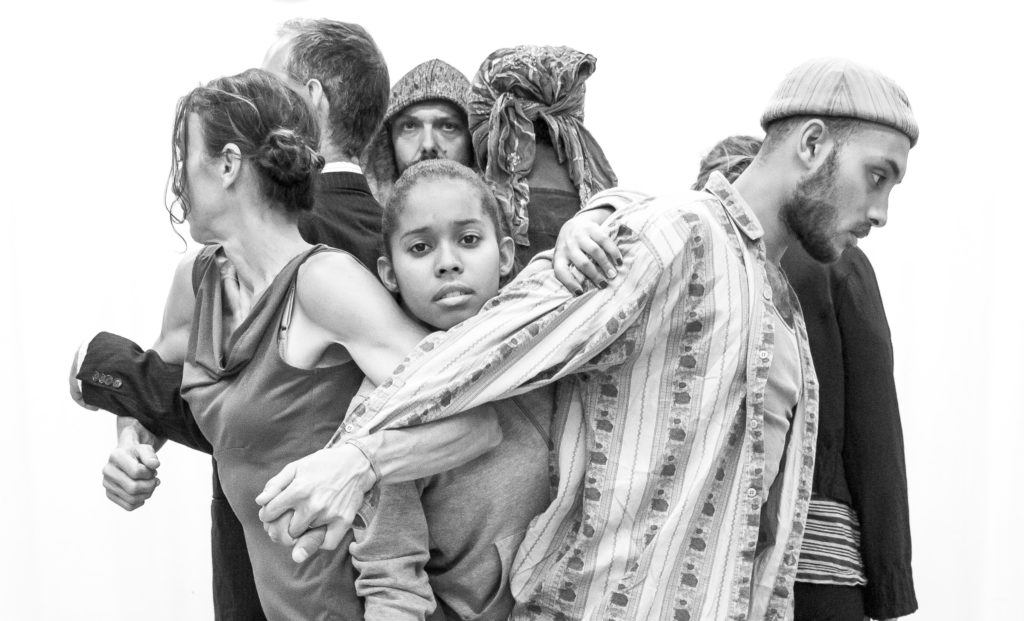 Cast: Angie Angels (Russia), Carl Chambers (England), Dermot Flanagan (Ireland), Sharon Gopfert (Germany), Andrew Laughton (Scotland), Luisa Lorenzo Gonzalez (Dominican Republic), Ariana Silvan-Grau (USA) and Malcolm McCarthy (Cuba).
Assistant Director Gary Damico /Lighting Design & Technician Marcelo Rojas/Choreographer Vicenc Arranz Alvarez/Costume Design Rachel Sypniewski, Pixie Lee, Roxana Perdiguero/Set Design Anna Chwaliszewska/ Video Design Poppi Knight & Nico Bertrand/ Graphic Design Zekewenders /Stage Manager Neema Lahon/Sound Design Marta Mattotti
Director
Beata Pilch founded Trap Door Theatre in 1994. Originally from Chicago, she holds a BFA in Acting from the United States International University in San Diego and a MFA in Acting from California Institute of the Arts in Valencia, CA. She had the honor to graduate as a magna cum laude from both universities and was later awarded the Prestigious Alumni award from CalArts. Pilch found Chicago's Trap Door Theatre in 1994 and still presides as its Artistic Director. She has directed and performed in over 80 Trap Door productions and has toured abroad annually with the company to France, Romania, Hungary, Poland and was the first US theatre company ever to perform in the Republic of Moldova. In 2015, Beata created a sister company, Trap Door International, which produces out of Barcelona, Spain.