John Doe 
Based on the texts of Madman and the Nun Stanislaw I. Witkiewicz
February 2015
Zakopane, Poland
Written by Stanislaw I. Witkiewicz
Translated by Daniel Gerould
Adapted and directed by Andrzej Dziuk, Founder and Artistic Director of The Teatr Witkacy in Zakopane, Poland.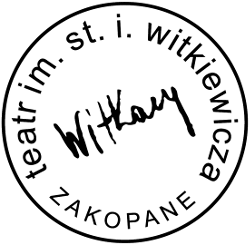 Trap Door was invited back to Teatr Witkacy in Zakopane Poland to remount their critically acclaimed Chicago production of John Doe, a co-creation with of Teatr Witkacy that was manifested in the summer of 2014. The production was showcased as part of 130/30; a celebration that brings together Teatr Witkacy's 30th birthday, and the 130th anniversary of Witkiewicz's birth in the winter of 2015. Various groups from all over Poland were invited to participate and Chicago's very own Trap Door Theatre was chosen to take part in this unique celebration.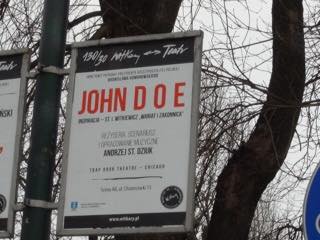 Tour Cast: Kirk Anderson, Holly Cerney, Michael Garvey, John Kahara, Beata Pilch, and Wesley Walker.
Performances:
Poland
February 26 & 27, 3 performanaces: Teatr Witkacy, Zakopane
130/30 Festival honoring the 130th birthday of Stanisław Witkiewicz and the 30th anniversary of the Witkacy Teatr