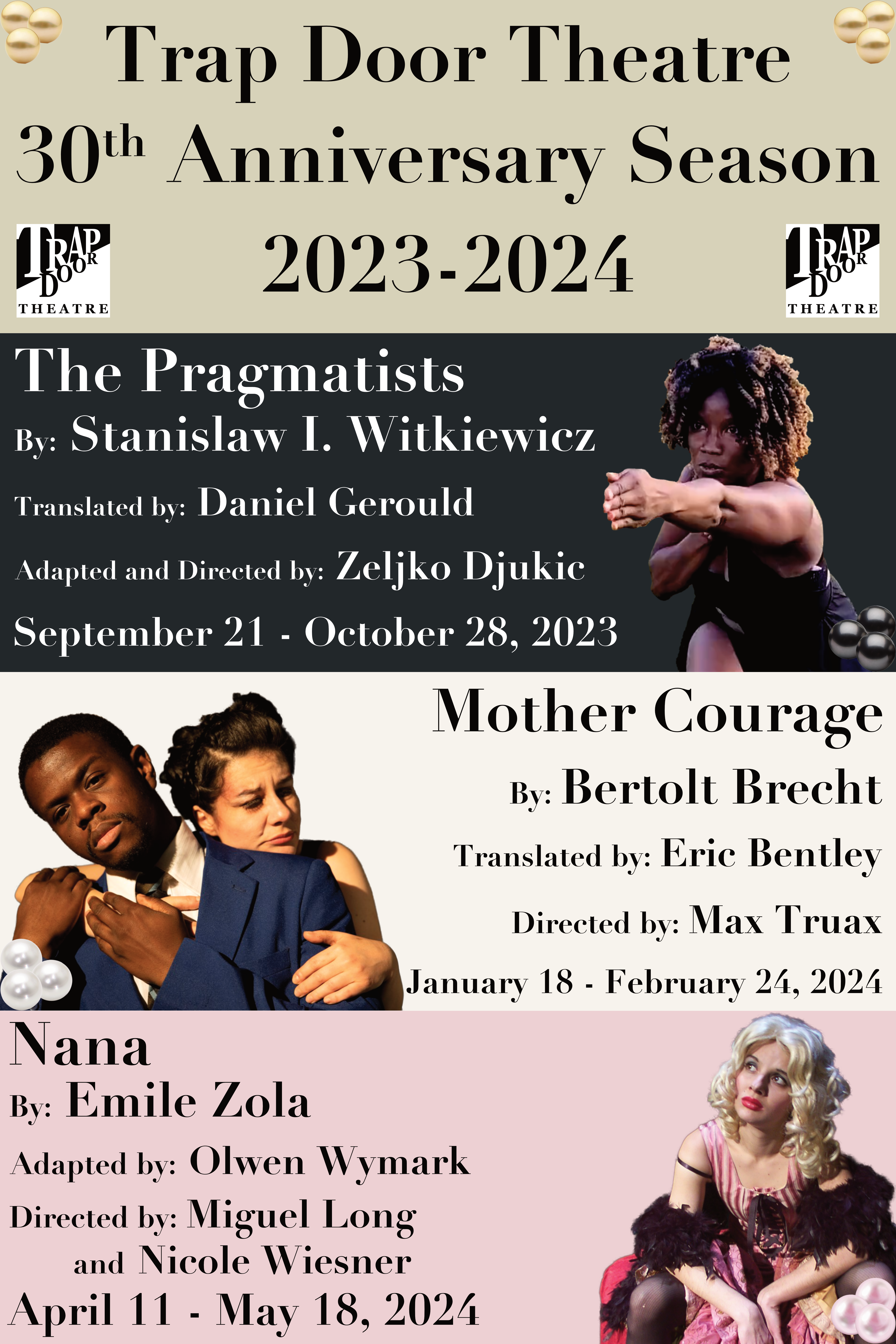 Subscribe to Trap Door's 30th Season
Don't miss a moment of another incredible year with Trap Door Theatre!
Subscribers now get priority seating!!
Trap Door Theatre is once again offering our popular discounted multi-show pass! Use these passes in any combination for any Trap Door Theatre production with advance reservation.
4 Show Subscription Pass: See 4 shows for just $90 (Save $30!)
8 Show Subscription Pass: See 8 shows for just $160 (Save $80!)
Super Subscriber Package $200
The Super Subscriber Pass includes: An 8 Show Subscription Pass, a complimentary concession at each show, and reserved seating for each show.
Subscription passes never expire! They can be used in any combination anytime for any Trap Door Theatre production (rentals, tours, or touring companies excluded).
Trap Door Theatre is proud to present its 30th Season!
With shows directed by Zeljko Djukic, Max Truax, Miguel Long, and Nicole Wiesner.
Runs September 21st – October 28th, 2023

Written by Stanislaw I. Witkiewicz
Translated by Daniel Gerould
Adapted by Adam Ranđelović
Directed by Zeljko Djukic, guest director from Serbia

Featuring: Venice Averyheart, Caleb Jenkins, David Lovejoy, Manuela Rentea, Hannah Silverman, Keith Surney, and Kevin Webb.

In a setting that is at the same time a torture chamber, a chamber of the heart, and a chamber for a virtuoso recital, two former friends struggle for domination in an existential conflict. They share the same dilemmas, the same collapsing world, the same despair; they are "pragmatists" because instead of facing the ultimate mystery of existence, they attempt to find pain-killing evasions, which dooms them to live the past over again while experiencing the future in advance. After his previous directing triumphs of First Ladies and Judith: A Parting from the Body, TUTA founding Artistic Director Zeljko Djukic returns from Serbia to Trap Door to direct Witkiewicz's first ever published piece.
Get Tickets for The Pragmatists
Mother Courage

Runs January 18th – February 24th, 2024
Written by Bertolt Brecht
Translated by Eric Bentley
Directed by resident director Max Truax
Mother Courage becomes a parasite of war as she, hell bent on her own survival, celebrates the Thirty Years War as the source of her prosperity. Wartime virtues become fatal to their possessors in this stark, music filled play. Resident Director Max Truax returns to direct this epic play, having previously tackled Brecht's iconic work with his adaptation of Round Heads and Pointed Heads at Red Tape Theatre.
Nana

Runs April 11th – May 18th, 2024
Written by Emile Zola
Adapted by Olwen Wymark
Directed by ensemble member Miguel Long and managing director Nicole Wiesner
A story of sexual and financial greed in nineteenth-century Parisian society, depicting the rise and tragic downfall of a young courtesan. Resident Choreographer Miguel Long and Managing Director Nicole Wiesner–who originated the role of Nana in Trap Door's 2002 production–direct this musical and flamboyant reimagination of a Trap Door classic.