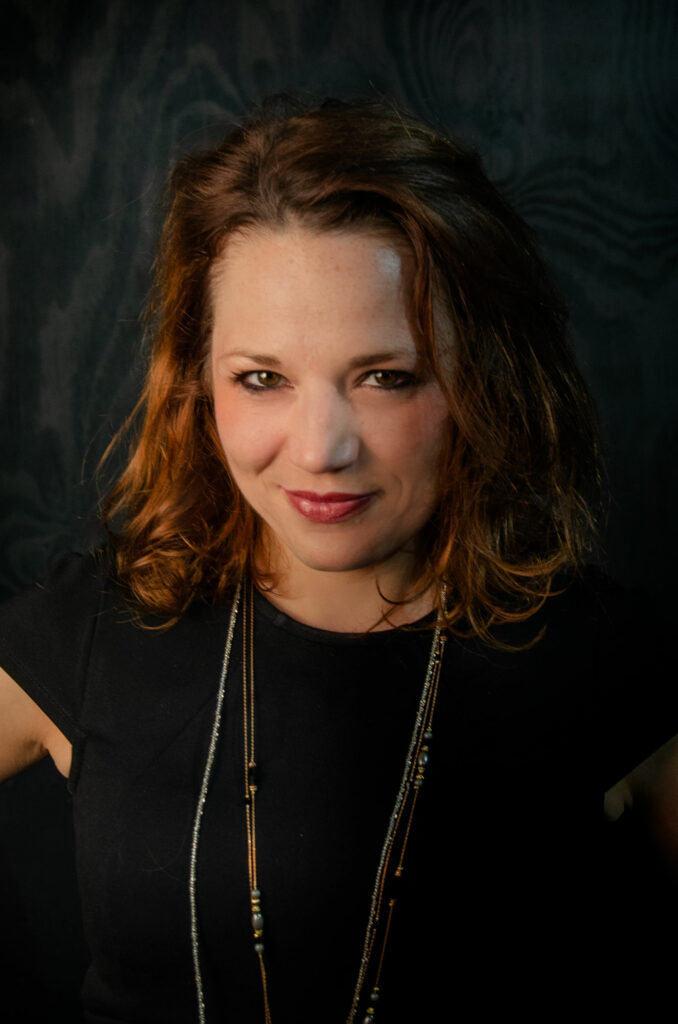 Acting
Ersilia Drei / Naked
Phèdre / Phèdre,
No Matter How Hard We Try
The Unveiling / Dozens of Cousins
Anger/Fly
A Couple of Poor, Polish-Speaking Romanians
The Arsonists
The Beastly Bombing
The Unconquered
Nurse / Eva Peron
Ensemble member Tiffany Bedwell (she/her/hers) (artist caesura) has been a part of the Trap Door community since 2008. Originally from Garden City, Michigan, she graduated with a BFA in theater from Wayne State University, Detroit. In 2019, she appeared as Maggie in the critically acclaimed Yen at Raven Theatre, which earned her a Jeff nomination for best supporting performer. Find more on her website. 
Bedwell's favorite line from a Trap Door production:
"It's just that we all, we all want to make a good impression. The uglier we are, the more beautiful we want to appear. It's just to cover ourselves decently, that's all." —Ersilia Drei, Naked
Bedwell's performance is an impressive reminder that just because an actress maintains an extreme emotional state for seventy-five minutes doesn't mean she won't find a varied and nuanced way of expressing it. . . Bedwell's performance is the lynchpin. . . Highly Recommended.
Jacob Davis, Around the Town Chicago
To say Tiffany Bedwell's performance as Phèdre is arresting would be understatement: it's hard to imagine a more invested and varied embodiment of one overwhelmed by forbidden and unrequited lust. Highly Recommended.
Tom Williams, Chicago Critic
Tiffany Bedwell's deliciously histrionic performance puts the drama in this drama queen.
Kerry Reid, Chicago Tribune
Bedwell and Pilch play off each other with a dash of sitcom energy, as if Lucy and Ethel accidentally wandered into Maxim Gorky's "The Lower Depths"
Chicago Tribune (No Matter How Hard We Try)
…succeeds thanks to the stellar performances of Tiffany Bedwell and Kevin Cox…
Chicago Tribune (The Unveiling and Dozens of Cousins)
Tiffany Bedwell is elegantly peculiar as Mrs. Biedermann, realizing lovely layers to a potentially one-dimensional character (…Four Stars)
Chicago Stage Review
Tiffany Bedwell shrieks and smokes with aplomb as… Babette
Chicago Theater Beat
(David Steiger) is well-matched with Tiffany Bedwell as his wife, who wears a perpetually bright, perky, Teflon smile – until she doesn't. It's a gas watching them…
Chicago Tribune (Anger Fly)