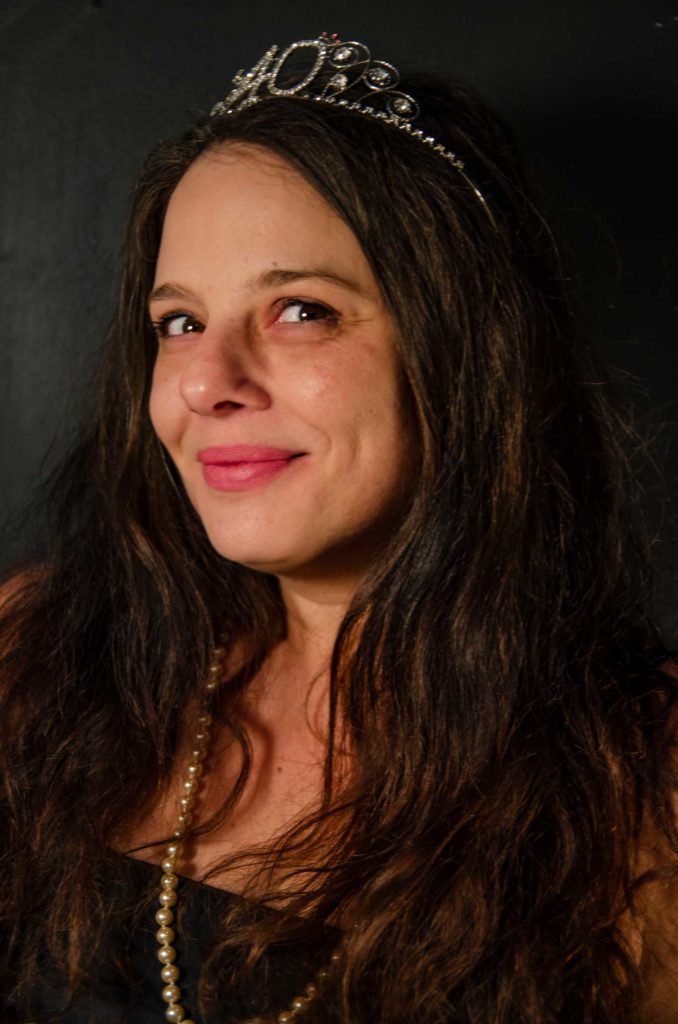 Acting
Occidental Express

How to Explain The History of Communism to Mental Patients (

Romanian tour)

Regarding the Just
Judith: A Parting from the Body

Blood on the Cat's Neck

The Balcony

OVERWEIGHT, unimportant: MISSHAPE – A European Supper

First Ladies

Alice in Bed

The Bitter Tears of Petra Von Kant

The Fourth Sister

The Crazy Locomotive

People Annihilation or My Liver is Senseless

The Venetian Twins

Katzelmacher

Nana

Quills

The Shoemakers Automobile Graveyard

Ten Tiny Fingers, Nine Tiny Toes

Baal

The Homosexual, (or The Difficulty of Sexspressing Oneself)

La Ronde

Bondage
Nicole Wiesner (she/her/hers) joined the acting ensemble in 1999 and currently serves as the Managing Director. Originally from Cincinnati, she has appeared regionally, including at the Goodman Theatre.
Nicole Weisner and Kevin Cox are superb as tactical equals Judith and Holofernes. The course their sparring takes is cruel and perverse, but no more so than Barker's source.
by Keith Griffith, Chicago Reader (on performing in Judith: A Parting from the Body)  
The cast handles this emotional disorder with precision and grace; Wiesner is riveting as she embodies with voice, body and heart all the little earthquakes of Judith's intrigue…
by Megan Powell, Time Out Chicago (on performing in Judith: A Parting from the Body)  
Barker's Minna is just the kind of pot that Trap Door stirs with beguiling results and director Nicole Wiesner brilliantly creates this nightmarish reality with both visual lyricism and explosive whimsy in this haunted house of catastrophic madness.
by Venus Zarris, Gay Chicago Magazine (on directing Minna)
But this is otherwise pure Witkiewicz, nicely unplugged. And there's a very courageous and intense performance from Nicole Wiesner, who plays an initially excited young woman who rides her loco straight to hell.
by Chris Jones, Chicago Tribune (on performing in Crazy Locomotive)
Wiesner's Petra is the fulcrum and the center of the production, a towering, voluptuous presence in low-cut black velvet and FM shoes, a woman who is equally powerful whether roaring with lust or whimpering with dejection.
by Catey Sullivan, Windy City Times (on performing in The Bitter Tears of Petra Van Kant)
Nicole Wiesner (who truly understands Schwab) 
by Alan Brushoff, Around the Town (on performing in OVERWEIGHT, unimportant: MISSHAPE)
Nicole Wiesner keeps the 90 minute show vivacious at nearly every point.
by Clint May, Chicago Theatre Beat (on directing The Fairytale Lives of Russian Girls)
Nicole Wiesner's bold staging for Trap Door Theatre of "Phedre"
by Kerry Reid, Chicago Tribune (on directing Phedre)
Wiesner creates arresting, confounding stage images… Wiesner's eye for the inexplicably resonant is characteristically sharp. And it is precisely from the collision of inexplicability and resonance that this show, like so many at Trap Door over the years, draws its power.  
by Justin Hayford, Chicago Reader (on directing Phedre) 
The performances – including Nicole Wiesner as a crazed woman furiously riding a rocking horse… – are in perfect synch with Visniec's fractured but taut language. 
by Kerry Reid, Chicago Tribune (on performing in the word progress on my mother's lips doesn't ring true)
To cram Chevalier d'Eon's life into just ninety minutes requires a lot of inventive staging and an unflagging pacFortunately for Chicago audiences, Trap Door Theatre and ensemble director Nicole Wiesner are well-versed in just that sort presentation, with hilarious and often fascinating results.
by Jacob Davis, Around the Town (on directing Monsieur D'Eon is a Woman)
Directing
Decomposed Theatre

(

Episode 5)

The White Plague

The Old Woman Broods

Monsieur D'eon is a Woman

Phedre

The Fairytale Lives of Russian Girls

Minna