Michael Garvey

Michael has been caught in the Trap for twenty years when he went to a place he knew not where to audition for a play he knew not of…naturally he knew not what to expect. He still doesn't. And that's the beauty of Trap Door Theatre…and life. He was cast.
At Trap Door, Michael has performed in Blood on the Cats Neck, Troy Women, The Boys of the Peggy August Club, Garden of Delights, M.S. Garvey's, Letters to the President, directed by Artistic Director, Beata Pilch (the first Trap show to tour, going to the Uni-Drama Festival in Targu Mures Romania and later the Arad Fun Underground Festival), the touring version of The Word Progress on My Mother's Lips Doesn't Ring True (touring throughout Romania, Moldova and Hungary), Regarding the Just (touring six cities in France), and most recently, John Doe, the collaboration between Trap Door and the Teatr Witkacy, in Zakopane, Poland, conceived  and directed by it's Artistic Director, Andrzej Dziuk.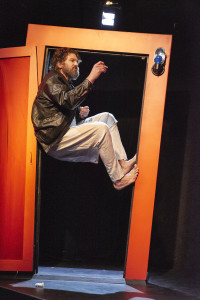 Other theatres Michael has worked with include: Players Workshop of The Second City, The Second City, Collaboraction, Cafe Voltaire, Shattered Globe Theater, Emerald City Children's Theater, and the Steppenwolf Theater in Superior Donuts by Tracy Letts (going to Broadway's Music Box Theater in 2009).
Michael spent thirteen years in Los Angels working in film, television and theater. In film, credits include: Men in Black II, Bruce Almighty, Final Destination 2, Haunted Mansion and Baseketball, among others. Most recently he cameoed in Graffito, a film by company member David Holcombe. And is production assistant for the Trap Door film, The House of Gods, directed/produced by Beata Pilch; shot/edited by Dave Holcombe.
Television: ER, JAG, StarTrek: Enterprise, Martial Law, Roswell, and can be seen on Sesame Street as Mr. Shoe. Theater favorites include: Requiem for a Heavyweight and Laura at the Pierson Playhouse in Pacific Palisades, and his own creation, Letters to the President with the band the Hootenanny All Stars, performed at the Robert Berman Gallery of the Bergamot Arts Center, Santa Monica, Electric Lodge Theater, Venice and the No Name Theater, Hollywoood. He has also performed with the internationally known American punk artist Raymond Pettitbon in the band the Nichemakers, and has worked many years in performance and film with multi-media artist, Catherine Sullivan in Los Angeles, Berkley, Ca., Chicago, New York City, Dijon and Lyon, France, and Aachen and Berlin, Germany, and most recently at the new Cricoteka space in Krakow, Poland.
Finally, Michael is the front man and words behind The GarveyTrain, Trap Door's house and touring band consisting and existing of six other co-conductors and con-duits from the Trap family. The Train explores the social, political, ethereal tide of the times through music, sound, dance and danger. Please get on board at www.thegarveytrain.com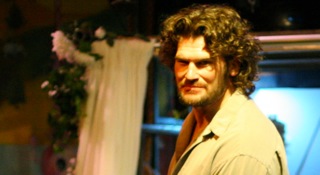 Michael Garvey's solo show is something different…in just under an hour he poignantly raises a question familiar to many…creates a welcoming place for the confused and downhearted citizen.

Highly Recommended!

-Kerry Reid, The Chicago Reader