Tiffany Bedwell

Tiffany earned her BFA from Wayne State University (Detroit) and studied at The Moscow Art Theater School (Russia) and The Athens Centre (Greece). In Chicago, Tiffany has worked with Goodman Theatre, Writers' Theatre, Victory Gardens, The Artistic Home, Eclipse, Apple Tree and other theaters. She has been a Trap Door Theatre company member since 2008 and has appeared in 
Eva Peron, The Beastly Bombing, The Unconquered, Anger/Fly, The Arsonists, The Unveiling & Dozens of Cousins,
 and 
A Couple of Poor, Polish-Speaking Romanians
, which toured Romania and Poland. On television, Tiffany has appeared as Laura on ABC's 
Betrayal 
and as Victoria Lewyn on both NBC's 
Chicago PD 
and 
Chicago Fire
. Tiffany is a SAG-AFTRA member and is represented by Paonessa Talent. 
www.tiffanybedwell.com

Bedwell and Pilch play off each other with a dash of sitcom energy, as if Lucy and Ethel accidentally wandered into Maxim Gorky's "The Lower Depths"
Chicago Tribune (No Matter How Hard We Try)
…succeeds thanks to the stellar performances of Tiffany Bedwell and Kevin Cox…
Chicago Tribune (The Unveiling and Dozens of Cousins)
Tiffany Bedwell is elegantly peculiar as Mrs. Biedermann, realizing lovely layers to a potentially one-dimensional character (…Four Stars)
Chicago Stage Review
Tiffany Bedwell shrieks and smokes with aplomb as… Babette
Chicago Theater Beat
(David Steiger) is well-matched with Tiffany Bedwell as his wife, who wears a perpetually bright, perky, Teflon smile – until she doesn't.  It's a gas watching them…
Chicago Tribune (Anger Fly)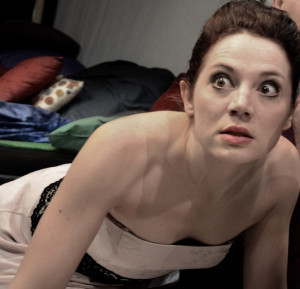 "[David Steiger] is well-matched with Tiffany Bedwell as his wife, who wears a perpetually bright, perky, Teflon smile — until she doesn't. It's a gas watching them . . . . "