Blood on the Cat's Neck
Written by Rainer Werner Fassbinder
Translated by Denis Calandra
Directed by Beata Pilch
November 14 – December 28, 2013
Inspired by the original Trap Door production directed by Andrew Cooper Wasser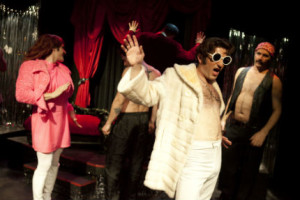 Recommended! by Chicago Reader, Chicago Theatre Critic, and New City! Even in one of the most prominent theater communities in the country, Trap Door remains one of the few accessible, ambassadorial institutions for truly experimental work. – TimeOut ***
…under the direction of artistic director Beata Pilch, this cast of ten, led by Contras, commits themselves to Fassbinder's twisted world and delivers a seventy-minute show that's as captivating as it is confounding. – Newcity

Cast: Jacob Alexander, Antonio Brunetti, Marzena Bukowska, Simina Contras, Nicholas Loumas, Lyndsay Rose Kane, Chris Popio, J. Keegan Siebken, Nicole Wiesner, and Carl Wisniewski.
The naked exploring alien Phoebe Zeitgeist studies human democracy through encounters with earthly inhabitants. Travel along with Phoebe as she sinks her teeth into a cast of lovers, models, butchers, teachers, soldiers, and girls. Originally directed for the Trap Door Theatre in November of 1996 "with sound and fury" by Andrew Cooper Wasser.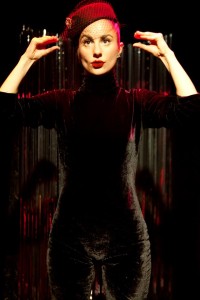 Rainer Werner Fassbinder (Playwright) was best known for his powerful, offbeat, messy films. He made forty films by the time he died of a drug overdose at thirty-six. He began his work in the theatre in the late sixties, at twenty-two years old. He acted, directed, (loosely) adapted classics by Buchner, Goethe, Sophocles, Goldoni and others, wrote several of his own plays, and in a few years emerged as the leader of a group of performers who worked with him until his death in 1982. Fassbinder's plays, like the films, are about varieties of alienation. The images Fassbinder created for the stage, and in films, linger as grotesque and brutal, possessing a strange, improbable truth. In a way, Fassbinder made a career out of despair-selling his own and others' misery in endless variations, operating according to a system he did not create. Other works included in his controversial antitheater plays are: Bremen Freedom, Blood on the Cat's Neck, Katzelmacher, and The Bitter Tears of Petra von Kant.
Beata Pilch (Director) born in the Polish district of Chicago, holds a Bachelor's Degree in Acting from the United States International University in San Diego, California, and a Master's Degree in Acting from the California Institute of the Arts in Valencia, California. Pilch founded Chicago's Trap Door Theatre in 1990 and still presides as its Artistic Director. She cultivated her life-long fascination with the avant-garde and obscure as a graduate student at the California Institute of the Arts. A Chicago native and frequent European traveler, she felt that a company that combined bold and physical European acting technique with rich European theatrical literature would provide Chicago's entertainment scene with a unique and vibrant voice. Beata remains true to her original mission and continues to travel abroad every year to research up-and-coming directors, playwrights and stage technique in Berlin, Budapest, Krakow, Zakopane, Paris and other continental cities.
Assistant Director Emily Lotspeich / Stage Manager Allison Goetzman/ Set Designer Richard Norwood / Costume Design Rachel Sypniewski/ Lighting Design Richard Norwood/ Sound Design Danny Rockett / Make-Up Design Zsofia Otvos / Graphic Design Michal Janicki