The Crazy Locomotive
Written by Stanislaw I. Witkiewicz
Translated by Daniel C. Gerould
Directed by Beata Pilch
Chicago Run: September 2005
New York Run: August 2005
Romanian Run: May 2007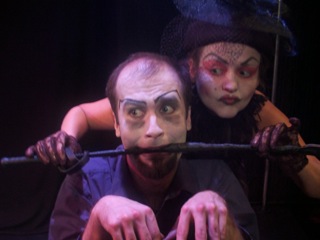 The New York International Fringe Festival– FringeNYC
A Production of The Present Company
www.FringeNYC.org
"It's a buffoonish, perverse, assaultive, and exhilarating?ride, just the kind Witkiewicz must have envisioned."
-Chicago Reader
"Witkiewicz nicely unplugged…few American theaters are willing to risk doing his work…it seems like Trap Door only has the guts."
-The Chicago Tribune

Chicago/NY Cast: John Gray, John Kahara, Beata Pilch, Carolyn Shoemaker, Nicole Wiesner and Carl Wisniewski
Romania Cast:John Gray, Noah Durham, Beata Pilch, Kim McKean, Greg Beam
The Crazy Locomotive is a multi-media superparody– of the worship of the machine and of the new arts of technology: futurism and cinema.
A band of degenerate criminals and artists commandeer an engine and seek to bring about God's judgment by racing at apocalyptic speeds into an oncoming passenger train.
This is your brain on Witkiewicz.
About the Playwright:
Stanislaw I. Witkiewicz is one the most brilliant figures of the European avant-garde, Witkiewicz was a poet, painter, playwright, an expert on drugs, an early spokesman for a radically non-realistic theatre and an original philosopher and social critic of mass culture, post-industrial society, and the rise of totalitarianism. He was also a pioneer in serious experimentation with narcotics and prophetically recognized the growing importance that they would have on Western civilization. Politics, revolution, and even art were similar "drugs." Witkiewicz committed suicide shortly after the outbreak of War in September of 1939. He is best known for his plays The Madman and the Nun, The Mother, The Water Hen, The Anonymous Work, and The Shoemaker.
IN CHICAGO:
The Trap Door Thearte
1655 West Cortland Ave.
IN NEW YORK:
The Theater at the Center for Architecture
536 LaGuardia Place, NYC 10012
For NY TIX: 1-888-FringeNYC or www.FringeNYC.org
Assistant Director: Andrew Krukowski
Set Design: Ewelina Dobiesz
Lighting Design: Richard Norwood
Sound Design: Anna Czerwinski
Film Design: Carrie Holt de Lama
Costume Design: Beata Pilch