Trap Door is hosting a Raffle!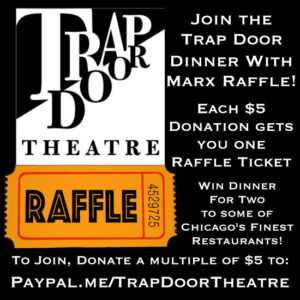 Join the Dinner With Marx Raffle for a chance to win a gift certificate to some of Chicago's finest restaurants!
The winners will be announced live at the talkback on Sunday, October 17th after the 3:00 matinee performance.
Meet the artists, director and translator, and a chance to win the Raffle!
Here's How to Win:
Make a donation of $5 to receive one raffle ticket.
If you'd like to have multiple raffle tickets, each multiple of $5 gains you another raffle ticket.
For example, if you'd like 5 raffle tickets, you would donate $25