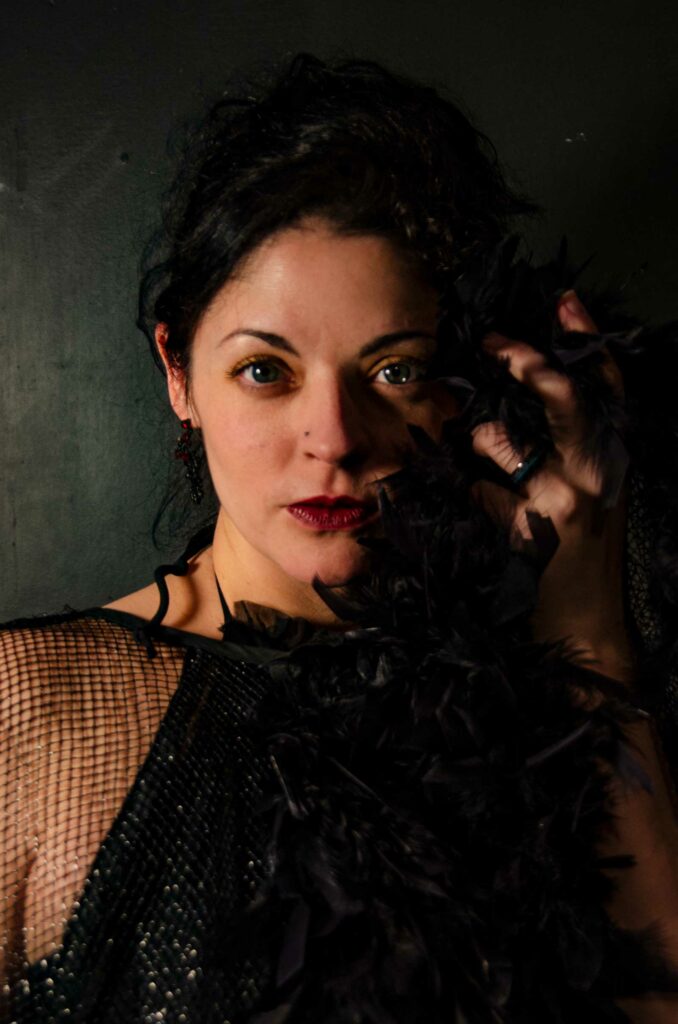 Acting
Authority / ALAS
Virginia Harrison Hamman / Lipstick Lobotomy
Ensemble / 25/25
Empress Elizabeth/Halifax/Marie Antoinette / Monsieur D'eon is a Woman 
Enone / Phèdre
Nadeszda / How to Explain the History of Communism to Mental Patients 
Olga/Valentina / The Fairytale Lives of Russian Girls
Princess Conti / La Bête
Mrs. Bat / Vatzlav
Carmen / The Balcony
Audience services director and ensemble member Ann Sonneville (she/her/hers) has been a member of the Trap Door community since 2013. Originally from Moline, Illinois, she received her BFA in acting from Northern Illinois University and also studied at the Moscow Art Theatre School. About Trap Door, she says, "the work is forever knocking down the walls of impossible and building worlds out of thin air. It's unlike any other work I've done. I love it."
Sonneville's favorite line from a Trap Door production:
"I don't enjoy a baby prostitute whatsoever." —Lipstick Lobotomy
…There are terrific turns in multiple roles from Ann Sonneville as the imperious Empress Elizabeth and the hapless Marie Antionette…
Kerry Reid, Chicago Tribune
If you hadn't already been totally charmed with talented cast and creative team behind Monsieur D'eon is a Woman, certainly when magnetic Ann Sonneville becomes both haughty Elizabeth I and a cantering steed you will latch for sure.
Amy Munice, Picture This Post
The majestic Ann Sonneville nearly steals the show with her brightly regal, nearly poisonous take on Elizabeth I.
Brian Kirst, Windy City Times
Sonneville and Bisto are excellent in their multi-faceted roles.
Nancy Bishop, The Third Coast
Sonneville is intriguing as a character who sees herself as a take-no-nonsense type but whose amorality ultimately introduces the mortal-on-mortal injustice which makes the play tragic.
Jacob Davis, Around the Town Chicago
Ann Sonneville controls the audience's attention in a scene that takes place prior to the show's official start…even the smallest action can be entrancing when done authentically. So it is with Sonneville. She also teams with Contras to present the character Ribbentrop-Molotov, who adds a ridiculous amount of absurdity to an already skewed kangaroo court.
Christopher Kidder-Mostrum, Theatre By Numbers
Sonneville's princess is dangerous without being malicious…(she) never lets us forget that she'll use her power to get her way.
Jacob Davis, Around the Town Chicago
There are some delightfully over-the-top moments—particularly from Ann Sonneville as a supremely disturbed mommy.
Tony Adler, Chicago Reader
Ann Sonneville is wonderfully funny as Olga, playfully authoritative as the Passport officer and Professor and then incredibly threatening as Valentina. 
Chicago Stage Review
Much of this play belongs to these three men. But, when Ann Sonneville takes the stage as the Princess, she shines as brightly as the gentlemen. 
Christopher Kidder-Monstrom, Newcity Stage