If you ever wish to know what cutting-edge theater looks like in Europe, take a peek at this magnificent company - Stage and Cinema
Opening this week!
A NEW play, hosted by Trap Door
And proudly presented by
TROLL
Written by: Elizabeth Archer
Directed by: Melanie Keller
 Preview: Thursday, July 28 
Opens: Friday, July 29th 
Running through August 13th
Thursdays, Fridays, Saturdays and Sundays at 8:00PM.
Due to the onset of preeclampsia, eight-months pregnant neurosurgeon May Evans has been placed on bed rest and ordered to "do less"…forcing her husband Sam, a popular online journalist, to try and keep her from sneaking off to make calls to her staff. But as May's condition worsens, she begins receiving disturbing anonymous emails about Sam and his "online activities," which he claims are linked to his controversial articles and research methods. As the truth behind the emails is revealed, Sam and May are plunged into a nightmarish world of online vigilantism,  articulate fetuses and legal drama.
Featuring:
Maggie Scrantom, Drew Shirley, Maggie Cain, Alex Nolen, Mia Vivens, Dennis Frymire
 Scenic Design - Shaun Renfro
Lighting Design - Lane Flores
Costume Design - Carla Hamilton McDowell
Sound Design - Anthony Ingram
Stage Manager - Colleen Layton
Graphic Design - Shawn Bowers
 For more information about Fraud and Phony, visit webpage and buy tickets at http://fraudandphony.com
or by clicking  www.brownpapertickets.com 
---
Coming up !
Next Season 2016-2017,
Trap Door Theatre presents:
Daydream Cleavage
(Working title)
Written by: Ruth Margraff
Directed by: Kate Hendrickson
Original work inspired by the television show Fantasy Island.
Opening: Sept 29th Running through Nov. 5th.
Thursdays, Fridays and Saturdays at 8:00PM.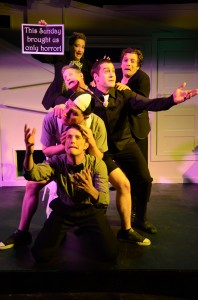 JOIN US THIS 23rd 

SEASON

,
to see this absolute
 AMERICAN AND WORLDWIDE PREMIERE
of
DAYDREAM CLEAVAGE
(Script/Title in work/subject to change)
and other great productions to follow 
only at
 THE FABULOUS TRAP DOOR THEATRE!
 The same collaboration between
playwright Ruth Margraff and
resident Trap Door director
Kate Hendrickson,
 that brought the amazing production
of
May 24–  June 30, 2012 (photo right)
HELP US MEET THE CHALLENGE!
The Trap Door Theatre is honored to be a recipient of a challenge grant from the
In an effort to help us expand our yearly fundraising goals, the Reva and David Logan Foundation has challenged Trap Door to raise $15,000 by May of 2017. If we are successful, they will match it dollar for dollar, making our total award $30,000.
This is a very prestigious award and we look forward to showing the strength of our community support.
If you've been waiting for the right time to make your tax-deductible donation to Trap Door, this is it!
OR
 make your check payable to Trap Door Productions and send to: Trap Door Theatre / 1655 W Cortland / Chicago IL 60622.
THANK YOU FOR ALL YOUR SUPPORT

Don't miss a moment of another incredible year with Trap Door Theatre!
Join us for our 23rd Season and become a subscriber!
Subscribers now get priority seating!!
Trap Door Theatre is once again offering our popular discounted multi-show pass! Use these passes in any combination for any Trap Door Theatre production with advance reservation.
Super Subscriber pass includes…
* Tickets to 8 Trap Door Shows
* Complimentary glass of beer or wine when you attend
* Exclusive invitation to selected rehearsals!
* Priority Seating for all of the shows
Passes never expire. Passes can be used in any combination anytime for any Trap Door Theatre production. Rentals, tours, or touring companies excluded. Seating is limited — please call ahead to the box office to make advance reservations when using your pass.
---
Donate towards our European Tour!
Support our "Rock it to Romania"  Fundraising Campaign!
By clicking on Donate Now link bellow you help us take this wonderful show to Europe!
Or you can send a Check to:
Trap Door Theatre 1655 West Cortland Ave. Chicago, IL 60622 773-384-0494
*(Scroll down for details about The Tour and ways you can help)
---
 How to Explain The History of Communism to Mental Patients
(REHEARSAL PROCESS) -Video by David Holcombe
Trap Door continues its long held tradition of presenting mature, challenging political theatre for discerning audiences.
TimeOut Chicago, Dan Jakes
---
European Tour 2017
The Trap Door Theatre is embarking on their 5th Annual Tour to Romania and Hungary and we need your help to get us there!
Trap Door Theatre's production of How to Explain the History of Communism to Mental Patients directed by Hungarian guest director Zoltan Balazs has been invited to play at The Maladype Theatre in Budapest, Hungary and several cities in Romania including the prestigious International Theatre Festival of Sibiu.
The Trap Door ensemble has officially launched their Rock it to Romania fundraising campaign for 10 ensemble members to go overseas and experience Eastern-European culture first hand! Accommodations, transportation between cities, and per diem have been accounted for while in Hungary and Romania for a month. Trap Door is only responsible for providing airfare for 10 company members to go overseas. Therefore we need your help to get us there!
There are many ways you can help

!
-Send us a check. All contributions are tax deductible.
-Donate online. Click link below
-Donate $25 in the lobby after the show and receive a postcard from Europe signed by the Trap Door team.
-Buy Raffle tickets at the show.
-Attend our upcoming benefit in June.
-Help Promote our tour on Facebook
-Get your friends to donate.
-Attend our show in Romania
The Trap Door ensemble needs to raise at least a minimum of $10,000 towards airfare for 10 artists. Words cannot express the appreciation our company has for any amount of support you can give to this cause. We are a 501©3 not-for-profit company and any contribution you give is tax deductible.
Thank you so much for your time and consideration of our request.
---
Can't make it to the show but want to support the theatre anyway? Leave your legacy behind! With your donation of $100, your name will be engraved on the seat of your choice at the Trap Door Theatre and reserved for you when you attend a show!
Donations can be mailed to:
Trap Door Theatre
1655 West Cortland Ave.
Chicago, IL 60622
Recognizes Trap Door as one of the best storefront theatres in the city!
---
Trap Door Productions presents its first
Documentary Film!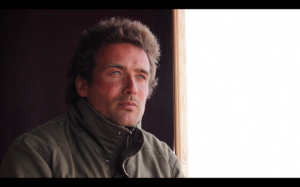 The House of Gods Trailer 1 from David A Holcombe on Vimeo.
---