Trap Door Theatre Presents:
Morning in America grows dark as Homeland Security invades the heartland, in our hysterically dystopian world premiere of…
Cookie Play
January 8 – February 14, 2015
Thursdays, Fridays, Saturdays at 8pm and Sundays at 3pm beginning on Jan. 25.
$20 on Thursdays, Fridays and Sundays; $25 on Saturdays
Special 2-for-1 Admission on Fridays
$30 on Saturday, January 10, 2015
Performance includes talkback with playwright Ken Prestininzi – Cheese and wine reception to follow!
Written by Ken Prestininzi Directed by Kate Hendrickson
Featuring: Lyndsay Rose Kane, Chris Popio, Mike Steele, Gage Wallace, & Carl Wisniewski
In Cookie Play, a mother from the heartland, fearing her son may be the next Edward Snowden, agrees to hold him captive in her basement to save both son and country. What happens next upends everyone's moral equilibrium in this twisted, offbeat satire. The truth of black sites, whistle-blowing and sanctioned torture intrudes upon one family's belief in a life as optimistic and sweet as a TV situation comedy or favorite bedtime story.
Director Kate Hendrickson and playwright Ken Prestininzi are longtime collaborators whose critically acclaimed productions at Trap Door Theatre have garnered several awards including a Jeff Award for Best New Work. They've sustained their collaborative relationship for over 20 years and, under the auspices of Trap Door, it is thriving. Hendrickson and Prestininzi spark each other to make precise leaps of imagination, while they interrogate and embrace what's both dangerous and tender in human connections. Together they form a director/playwright team of shared reverie, theatrical vision, and the belief in the persuasion of intimacy and commitment.
Stage Manager Meg Eaton / Graphic Design Michal Janicki / Assistant Director John Kahara/ Fight Choreography Mathias Maloff/ Set Design Mike Mroch/ Lighting Design Richard Norwood/ Makeup Design Zsófia Ötvös/ Sound Design Danny Rockett/ Costume Design Rachel Sypniewski
This project is supported with a grant from the Elizabeth F. Cheney Foundation.
To help celebrate Trap Door Theatre's 21st Anniversary, Jane's Restaurant is offering a complimentary glass of wine with purchase of your entree! Just show your ticket to your server and enjoy! Jane's is located in the front of the Trap Door building at 1655 W. Cortland Ave. www.janesrestaurant.com
---
ONE NIGHT ONLY!
VATZLAV
AT THE CHOPIN THEATRE
A Tribute to Playwrights Z. Herbert and S. Mrozek
We are thrilled to be performing in the 
Tribute to Z. Herbert and S. Mrozek weekend festival 
presented by…
The Chopin Theatre
1543 West Division Street
Chicago, IL 
Friday, December 5th
7:30pm Discussion with the Director
8pm Performance
For tickets and information, please call 
(773) 278-1500
Written by: Slawomir Mrozek
Translated by: Ralph Manheim
Directed by: Beata Pilch
Assistant Director: Gary Damico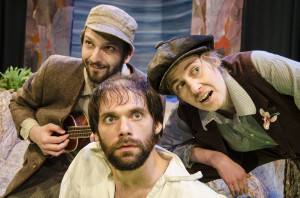 Cast: Trap Door ensemble members John Gray, Ann Sonneville, Holly Thomas Cerney, Johnny Graff, Eddy Karch, Mike Mazzocca, Leslie Ruettiger, J. Keegan Siebken, Mike Steele
Mrozek's Vatzlav welcomes the audience to an enchanted island of enTRAPment wherein a genius professor pimps his own daughter, Justice, and where the generous job-creating entrepreneurs are blood-sucking vampires and an old, blind guardian of the law, named Oedipus, proclaims that "In the dark, good is indistinguishable from evil".
---
Trap Door Theatre is currently on tour in France!
The Trap Door Theatre is proud to announce their 5 city tour throughout France with last season's production of Regarding the Just!

REGARDING THE JUST
Translated and Adapted by Pascal Collin & Nicholas Le Guevel from Albert Camus' Les Justes
Directed by Valéry Warnotte
Featuring Trap Door ensemble members: Antonio Brunetti, Michael Garvey, David Holcombe, Alzan Pelesic,  Beata Pilch, and the fabulous Nicole Wiesner, Including guest performer from Paris Pascal Collin.
FRENCH TOUR SCHEDULE:
Opening November 6, 2014 at Dieppe Scene Nationale   November 14, 2014 at Theatre de Viennes, scene Rhone Alpes   November 18 & 19, 2014 at L'Onde, Theatre de Velizy-Villacoublay   November 21, 2014 at Theatre d'Herblay   November 25 to December 6, 2014 at Le Carreau du Temple, Paris   November 29, 2014 at Le Nef, Espace Culturel de Saint-Die-Des Vosges
---
Can't make it to the show but want to support the theatre anyway? Leave your legacy behind! With your donation of $100, your name will be engraved on the seat of your choice at the Trap Door Theatre and reserved for you when you attend a show!
Donations can be mailed to:
Trap Door Theatre
1655 West Cortland Ave.
Chicago, IL 60622
---
Trap Door Productions presents its first
Documentary Film!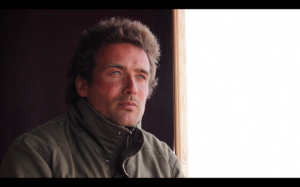 The House of Gods Trailer 1 from David A Holcombe on Vimeo.
---
Congratulations to Trap Door's Nicole Wiesner for her recent Jeff Award for Best Actress in First Ladies!

Congrats to Nicole Wiesner for bringing home the Jeff Award!