If you ever wish to know what cutting-edge theater looks like in Europe, take a peek at this magnificent company - Stage and Cinema
Join Trap Door in its 24th Season!
CLOSING WEEKEND!

Occidental Express
Written by: Matei Visniec
Translated by: Nick Awde
Additional translation by: Daniela Magiaru
Directed by: Istvan Szabo K.
Guest Director from Hungary
This project is supported by the Trust for Mutual Understanding
 90 minutes of masterful perplexity… An unsettling diorama of dismaying beauty – Justin Hayford, The Chicago Reader
A testament to the vibrancy and creativity of Eastern European theater. HIGHLY RECOMMENDED. – Jacob Davis, Around the Town Chicago
Cast: Dennis Bisto, Gary Damico, Michael Garvey, Emily Nichelson, Beata Pilch, Mike Steele and Nicole Wiesner
Opening: October 12, 2017
Running through Nov. 18th
Performances Thurs, Fri and Sat at 8PM
Admission: $20 on Thursdays, Fridays, $25 on Saturdays, 2 for 1 Admission on Fridays
Where: TRAP DOOR THEATRE 1655 West Cortland Ave. Chicago, IL 60622
For More Information/Reservations: 773-384-0494

Szabó directs this thinly woven drama skilfully. He has an outstanding cast, who make the tiny Trap Door stage come alive with poetry and madness. - Nancy Bishop, Third Coast Review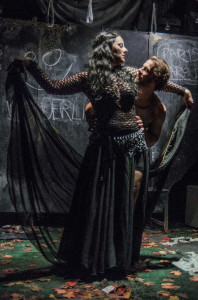 Matei Visniec, playwright, poet and journalist, was born in Romania, and now lives in Paris. He began writing for the theatre in 1977. Early in his career Visniec's plays were banned by the Romanian censors. In 1987 he was invited to France by a literary foundation. While there, he asked for and received political asylum. After the fall of communism in Romania, in 1989, Visniec became one of the most performed playwrights in the country. Visniec gained international attention in 1992, with productions of Horses at the Window in France, and Old Clown Wanted at the "Bonner Biennale". Since then, Matei Visniec's work has been produced in France, Germany, United States, Denmark, Austria, Poland, Finland, Italy, Turkey, Brazil, Romania, and Moldavia. Most recently, his play The Word Progress on My Mother's Lips Doesn't Ring True was the winner of the "Best Play in the Off-section" at the Avignon Festival in 2009.
István Szabó K. – Born in Romania, István Szabó K. has worked throughout Romania, Hungary and Germany. He graduated from the University of Targu Mures, Romania in 2000. He has served as Artistic Director of Szigligeti Hungarian State Theatre in Oradea, Theatre Director of the Hungarian State Theatre in Timisoara, and the Young Theatre in Piatra Neamt. At the Tomcsa Sandor Theatre in Odorheiu Secuiesc, he held several positions, including Artistic Director, General Manager and the Theatre Director. Mr. Szabó has also worked as the resident director at the Arca Independent Theatre in Bucharest. Currently, he is living as freelancer in Budapest, Hungary. Most notable productions include The Wedding at the Tomcsa Sandor theatre in székelyudvarhely, The Could Child at the Radu Stanca National Theatre in Sibiu, Edward at the Romanian National Theatre in Timisoara, The Temptation at Euro Theater Central in Bonn, Mausoleum and Waiting for Godot at the Hungarian State Theatre in Oradea, Titus anatomy/Fall of Rome at the National Theatre from Debrecen, Play Strindberg at the Vörösmarty Theatre from Székesfehérvár and Julia at the Hungarian Theatre (ex. National) from Budapest. Awards for his directorial work include: The Imagine International Festival for The Wedding, TopFest National Festival for Le Enfant Terribles, the Interethnic Theatre Festival "Press Prize" for Teibale and her Demon, The Contemporary Drama  Festival  for Attention, the doors are closing! And the Award of Excellency (accorded by Ministry of Culture from Romania – Saláj County Center) for the word progress on my mother`s lips doesn`t ring true, directed at the Trap Door Theatre from Chicago.
Crew: Set Design Stefan Roseen / Costume Design Rachel Sypniewski / Lighting Design Richard Norwood / Music Compostion Ovidiu Iloc /Sound DesignDanny Rockett / Make-up Design Zsofia Otvos / Dramaturg Milan Pribisic / Graphic Design Michal Janicki / Stage Manager Skye Fort / Assistant Stage Manager Julia Santha
---
"We are grateful to all of those who helped us reach our goal last year!"
"Thanks to your generosity we have been presented with the Challenge once more and need to raise another $15,000 by May 2018″
HELP US MEET THE CHALLENGE ONCE MORE!
The Trap Door Theatre is once again honored to be a recipient of a challenge grant from the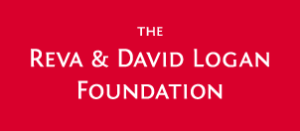 In an effort to help us expand our yearly fundraising goals, the Reva and David Logan Foundation has challenged Trap Door to raise $15,000 by May of 2018. If we are successful, they will match it dollar for dollar, making our total award $30,000.
This is a very prestigious award and we look forward to showing the strength of our community support.
If you've been waiting for the right time to make your tax-deductible donation to Trap Door, this is it!
OR
 make your check payable to Trap Door Productions and send to: Trap Door Theatre / 1655 W Cortland / Chicago IL 60622.
THANK YOU FOR ALL YOUR SUPPORT!

Don't miss a moment of another incredible year with Trap Door Theatre!
Join us for our 24th Season and become a subscriber!
Subscribers now get priority seating!!
Trap Door Theatre is once again offering our popular discounted multi-show pass! Use these passes in any combination for any Trap Door Theatre production with advance reservation.
Super Subscriber pass includes… * Tickets to 8 Trap Door Shows *, a complimentary concession when you attend and an * Exclusive invitation to selected rehearsals! * Priority Seating for all of the shows
Passes never expire. Passes can be used in any combination anytime for any Trap Door Theatre production. Rentals, tours, or touring companies excluded. Seating is limited — please call ahead to the box office to make advance reservations when using your pass.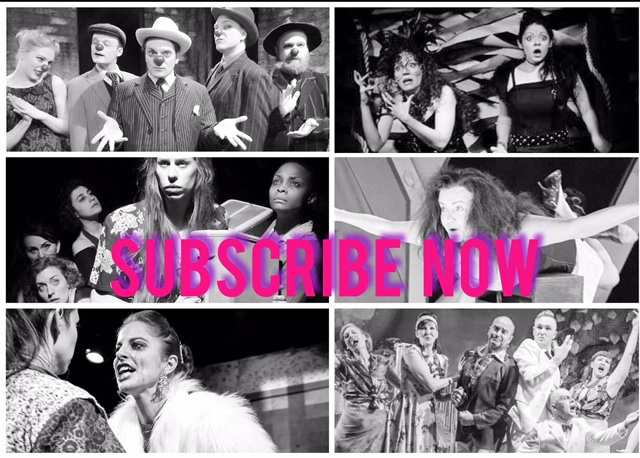 Trap Door continues its long held tradition of presenting mature, challenging political theatre for discerning audiences.
TimeOut Chicago, Dan Jakes
---
Can't make it to the show but want to support the theatre anyway? Leave your legacy behind! With your donation of $100, your name will be engraved on the seat of your choice at the Trap Door Theatre and reserved for you when you attend a show!
Donations can be mailed to:
Trap Door Theatre
1655 West Cortland Ave.
Chicago, IL 60622
Recognizes Trap Door as one of the best storefront theatres in the city!
---
Trap Door Has Its First Documentary Film!
The House of Gods
TRAP DOOR Productions has ventured out to make their first documentary film entitled THE HOUSE OF GODS based on the experience of meeting one very special man on the Camino de Santiago de Campostela in Northern Spain.
The House of Gods (La Casa de Los Dioses) trailer from David A Holcombe on Vimeo.