If you ever wish to know what cutting-edge theater looks like in Europe, take a peek at this magnificent company - Stage and Cinema
Trap Door Theatre presents…
How to Explain the History of Communism to
Mental Patients
Written by: Matei Visniec
Translated by: Jeremy Lawrence and Catherine Popesco
Directed by: Zoltán Balázs
Runs: Thursday, Friday, Saturday at 8 PM
Now Closing April 30th!
Due to popular demand  we're proud to announce that we're adding 3 more performances!
$20 on Thursdays and Fridays; $25 on Saturdays;  Special 2-for-1 Admission on Fridays
(Support our Romanian Tour of this show! Saturday Night Raffles! Win a subscription to Trap Door Theatre!-Details in the lobby!)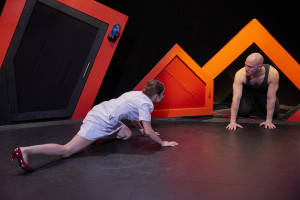 Photo: Bogdan Nastase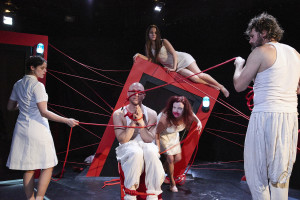 Cast:  Simina Contras, Michael Garvey, Beata Pilch, Benjamin Ponce, Pavi Proczko, Ann Sonneville,
RECOMMENDED!
The performers here deliver. Every movement is powerful and attentive.
New City – Jay Van Ort 
 Balázs has developed a physical acting method that can build and communicate a story without words. It is a beautiful thing to watch 
Theatre by Numbers-Christopher Kidder-Mostrom
Director Zoltán Balázs's angular, stylized staging is hilarious, perplexing, and harrowing—often all at the same time.
The Chicago Reader - Justin Hayford
Director Zoltán Balázs creates extremely spellbinding vignettes in what amounts to a sort of slow-motion work of contemporary movement art.
Chicago Theatre Beat - Clint May
*Donate towards our European Tour!
Support our "Rock it to Romania"  Fundraising Campaign!
By clicking on Donate Now link bellow you help us take this wonderful show to Europe!
Or you can send a Check to:
Trap Door Theatre 1655 West Cortland Ave. Chicago, IL 60622 773-384-0494
*(Scroll down for details about The Tour and ways you can help)
---
 How to Explain The History of Communism to Mental Patients
(REHEARSAL PROCESS) -Video by David Holcombe
                                       Zoltán Balázs (director)                                  Matei Visniec (playwright)
Matei Visniec, playwright, poet and journalist, was born in Romania in 1956, and now lives in Paris. He began writing for the theatre in 1977. Early in his career, Visniec's plays were banned by the Romanian censors. In 1987 he was invited to France by a literary foundation. While there, he asked for and received political asylum. After the fall of communism in Romania, in 1989, Visniec became one of the most performed playwrights in the country. Visniec gained international attention in 1992, with productions of Horses at the Window in France, and Old Clown Wanted at the "Bonner Biennale". Since then, Matei Visniec's work has been produced in France, Germany, United States, Denmark, Austria, Poland, Finland, Italy, Turkey, Brazil, Romania, and Moldavia. Most recently, his play the word progress on my mother's lips doesn't ring true was the winner of the "Best Play in the Off-section" at the Avignon Festival in 2009.
Zoltán Balázs graduated as an actor and director from the University of Theatre and Film Arts in Budapest. He participated in several foreign workshops such as in Anatoly Vasiliev's and Josef Nadj's workshop in Avignon. He studied from Robert Wilson in Paris and he also graduated from the European Theatre Union's directorial course in Stuttgart. In 2001 he founded one of the most important independent theatre, Maladype Theatre, and since he has been the artistic director in Budapest, Hungary. Through his performances he aims to give the audience a theatrical experience which is complex, appeals to emotions and senses and raises the scenery, motion and music to the same level as the lyrics. His main works: School for Buffons by Michel de Ghelderode; The Blacks by Jean Genet; Empedocles by Friedrich Hölderlin; Pelléas and Mélisande by Maurice Maeterlinck; Leonce and Lena by Georg Büchner; The Vampire by Heinrich Marschner; Faust I-II. by J. W. Goethe; King Ubu by Alfred Jarry; Platonov by A.P. Chekov; The Kitchen  by Arnold Wesker; Inferno by Dante; Swan Lake by P. I. Tchaikovsky; Don Carlos by F.Schiller; Master and Margarita by M. A. Bulgakov and Macbeth by W. Shakespeare.The aim of Zoltán Balázs's method – uniquely developed for training actors – is to develop the techniques for moving, dialogue and enhance the sense of body through self-examination. He focuses on the actors' intensive common work and continuous communication with the audience. Therefore the importance to improve the actors' analytical and synthesizing skills; the everyday tone of their speech; and the constant condition of the improvisation based play that gives immediate and spirited reaction to the audience is inevitable.
Set Designer Aaron O'Neill / Lighting Designer Richard Norwood / Costume Designer Rachel Sypniewski / Music Composer Danny Rockett/  Stage Managers Emily Lotspeich and Gary Damico/ Makeup Designer Zsofia Otvos / Graphic Designer Michal Janicki/ Dramaturg Milan Pribisic
Special Talk Back: On THURSDAY, MARCH 17th following the performance, there will be a talk back and reception with director Zoltán Balázs and the cast focusing on the play's theme of ghostly, invisible systems of power.
Wine and cheese reception to follow.
Matei Visniec's How to Explain the History of Communism to Mental Patients is an existentialist drama questioning the relation between personal and political, truth and deceit, real and de-illusional.
In this play's maddening interplay of mirrors and projections, everybody turns into a mental patient or a spy or a leader as each new revolution becomes yet another ideological TRAP.
Trap Door continues its long held tradition of presenting mature, challenging political theatre for discerning audiences.
TimeOut Chicago, Dan Jakes
---
European Tour 2017
The Trap Door Theatre is embarking on their 5th Annual Tour to Romania and Hungary and we need your help to get us there!
Trap Door Theatre's production of How to Explain the History of Communism to Mental Patients directed by Hungarian guest director Zoltan Balazs has been invited to play at The Maladype Theatre in Budapest, Hungary and several cities in Romania including the prestigious International Theatre Festival of Sibiu.
The Trap Door ensemble has officially launched their Rock it to Romania fundraising campaign for 10 ensemble members to go overseas and experience Eastern-European culture first hand! Accommodations, transportation between cities, and per diem have been accounted for while in Hungary and Romania for a month. Trap Door is only responsible for providing airfare for 10 company members to go overseas. Therefore we need your help to get us there!
There are many ways you can help

!
-Send us a check. All contributions are tax deductible.
-Donate online. Click link below
-Donate $25 in the lobby after the show and receive a postcard from Europe signed by the Trap Door team.
-Buy Raffle tickets at the show.
-Attend our upcoming benefit in June.
-Help Promote our tour on Facebook
-Get your friends to donate.
-Attend our show in Romania
The Trap Door ensemble needs to raise at least a minimum of $10,000 towards airfare for 10 artists. Words cannot express the appreciation our company has for any amount of support you can give to this cause. We are a 501©3 not-for-profit company and any contribution you give is tax deductible.
Thank you so much for your time and consideration of our request.
WANT TO BE A FRENCH CLOWN?
Take a class with the Parisian Clown Master,
Victor Quezada-Perez! 
Pictured: Trap Door ensemble member Tiffany Bedwell in The Arsonists
Trap Door Theatre invites French guest director Victor Quezada-Perez to teach Clowning workshop in Chicago.
Trap Door Theatre's director of the critically acclaimed production of The Arsonists will come to Chicago in May to teach specialized classes in 
Clown, Neutral Mask and Body Expression Mask. 
This Master Class will focus on the techniques rooted in the art of clown, fundamentals which may be applied to the art of the actor in general.
There are daytime and evening/weekend  classes available.
Evening & Weekend Session:
May 23rd through May 29th:
Monday through Wednesday

 from

6:00PM to 10:00PM

 
 

Saturday and Sunday

 from 

10:00AM to 4:00 PM

 
Daytime Session: 
May 31st through June 2nd:
Tuesday through Thursday

from

10:00AM to 5:00PM
The price for this 5 Session Workshop is only $250.
Location: The workshop will take place at HQ space located at 1914 N. Milwaukee Ave. 3rd floor. Chicago, Il. 60647
EARLY BIRD DISCOUNT!
Take advantage of our early bird discount and get $25 off if you reserve your place in the class 2 weeks in advance.
May 9th is the last day to sign up for evening classes beginning May 23rd.
May 17th is the last day to sign up for daytime classes beginning May 31st.
In order to secure your space, 50% of the cost of the class is due upon sign-up, the remainder will be collected upon attendance
The Master Class will focus on the techniques rooted in the art of the clown, 
fundamentals which may be applied to the art of the actor in general:
Neutral mask

Clown mask

Gravity and suspension

Musicality of the text and body

Fundamental states: anger, sadness, joy and fear

Verticality: ground anchor circulation of energy in the body
Victor Quezada-Perez is an actor, clown, musician, writer and director born in France. He is the founder of the Parisian clown company Cie Umbral, and has directed his company in festivals such as Avignon, France and Sibiu, Romania. He has been teaching clown for the last ten years. His specialty is staging new and classic stage text in clown. His collaborations with international writers, performers and directors include; Romanian/French playwright Matei Visniec, Marcos Malavia (founder of the Sourou theatre company), French performance artist Yanowski, author and professor Ariel Dorfman, Chilean author Luis Sepulveda, the Moroccan poet Abdellatif Laabi, and Trap Door's artistic director Beata Pilch.
"Guest director Victor Quezada-Perez brings his masterful expertise in the art of clowning to this mesmerizing and disturbing production in which each and every character is based in the European clowning tradition"
NewCity
While in town, Mr. Quezada-Perez will also hold auditions for "The Resistible Rise Of Arturo Ui" by Bertolt Brecht, opening spring 2017 at Trap Door Theatre.
Please Note: Red Noses will be provided in the class!
---
Thank you 
to all our supporters who've contributed to our new Heating/AC system! 
We still need your help to raise 
$2,500!
We'd like to keep our patrons cool during the summer while we continue to bring you some of the hottest theatre in town! 
All donations are tax deductible.
 If you are able to support us in this very important request please send a check to:
Trap Door Theatre 1655 West Cortland Ave. Chicago, IL 60622 773-384-0494
Or make a donation online by following this link.
Thank you!
---
Can't make it to the show but want to support the theatre anyway? Leave your legacy behind! With your donation of $100, your name will be engraved on the seat of your choice at the Trap Door Theatre and reserved for you when you attend a show!
Donations can be mailed to:
Trap Door Theatre
1655 West Cortland Ave.
Chicago, IL 60622
Recognizes Trap Door as one of the best storefront theatres in the city!
---
Trap Door Productions presents its first
Documentary Film!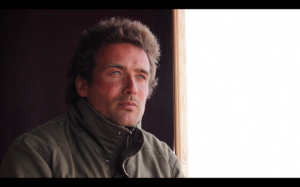 The House of Gods Trailer 1 from David A Holcombe on Vimeo.
---