TRAP DOOR PRESENTS
If you ever wish to know what cutting-edge theater looks like in Europe, take a peek at this magnificent company - Stage and Cinema 
Phèdre
Written by:   Jean Racine /Adapted by:   Paul Schmidt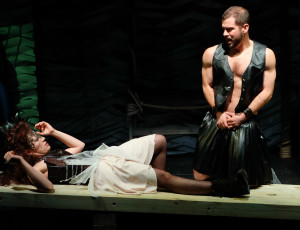 Trap Door Theatre presents an adaptation of Jean Racine's Phèdre. Physical evocations of the myths of ancient Greece, as well a critical eye towards societal conventions combine to create a modern take on this classic story of forbidden love.
Runs:            Thursdays, Fridays, Saturdays at   8PM
Admission:  

$20

on Thursdays   –    

$25

 on Saturdays     –  

 2 for 1

  Admission on Fridays
Due to popular demand, TRAP DOOR THEATRE is announcing…
2

final performances –

extension!
Now closing Friday, February 24
We are adding two final performances 
Thursday Feb. 23

&

 Friday Feb. 24
 8:00 PM - 
Admission

:  $20
Cast: Tiffany Bedwell, Dennis Bisto, Abby Blankenship, Halie Ecker, John Kahara, Emily Lotspeich, Ann Sonneville, Carl Wisniewski
Trap Door Theatre is the site of perhaps the greatest Chicago theater success in the last quarter century
Justin Hayford- Chicago Reader
Norma Desmond is alive and definitely unwell. She's just going by the name 'Phèdre' and her address is Cortland Avenue, not Sunset Boulevard
Kerry Reid - Chicago Tribune – ***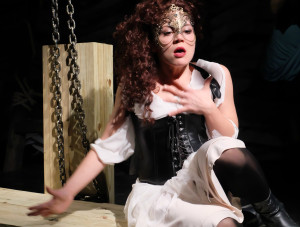 Trap Door's (…) company has been mounting intractable, inscrutable plays for 22 years, is the site of perhaps the greatest Chicago theater success in the last quarter century.I know, I know, such superlatives are supposed to be reserved for companies like the Goodman or Steppenwolf, (…)but in our pathologically mercantile culture, we too easily confuse a cultural institution's accumulation of assets (…) with its importance.
(…)
Director Nicole Wiesner superimposes stark distancing devices- angular stylized movement, intermittent doubling of characters, barking choral laughter
(…)
as does Danny Rockett's echoing, distortion-heavy sound design.
Justin Hayford- Chicago Reader
Wiesner creates arresting, confounding stage images     (…)
Wiesner's eye for the inexplicably resonant is characteristically sharp
(…)
Tiffany Bedwell's performance as Phèdre is arresting would be understatement: it's hard to imagine a more invested and varied embodiment of one overwhelmed by forbidden and unrequited lust. 
Justin Hayford- Chicago Reader
Halie Ecker's Venus is an exceptional portrayal of a Goddess, typically represented as languid and voluptuous: here, her sinister wiles bring out the insidiousness of lust and fit perfectly in the production that allows for no redemption. 
 August Lysy- Chicago Critic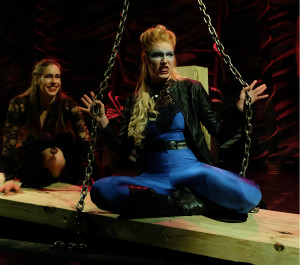 Jean Racine (Playwright) was a French poet and playwright born in 1639. From age nine he was reared in a Jansenist convent and chose drama as a career in defiance of his upbringing. His fame rests on his neoclassical tragedies: Britannicus (1670), Bérénice (1671), Bajazet (1672) and Phèdre (1677) [known as Phaedra in English]. Through some odes and sonnets written to Louis XIV, he attracted the attention and interest of the King. In Paris he met Moliere, the great comic playwright and actor-manager, who staged in 1664 Racine's first tragedy with mediocre success. His first great success came with Andromaque (first performed in 1667) which established Racine's most appreciated theme, that of the tragic folly and blindness of most passionate, uncontrollable love. Phaedra, the most profound and poetic of his tragedies, uses Euripides as a source and inspiration. In 1672 Racine became the member of the French Academy and two years later obtained the office of treasurer of France, the position conferring nobility. Eight months after the premiere of Phaedra, Racine cut all links with the commercial stage, married a pious young woman and accepted with Nicholas Boileau, the high honour of writing the official history of the regime of Louis XIV. During the next twenty years, he wrote only two plays notable for the presence of choral interludes on the ancient Greek model. He died in 1699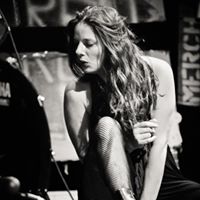 Nicole Wiesner
 (Director) has been a member of the Trap Door Theatre since 1999. Directing credits include Meg Miroshnik's
Fairytale Lives of Russian Girls
and Howard Barker's
Minna
. Favorite Trap Door acting credits include
First Ladies
(director Zeljko Djukic, Joseph Jefferson Citation: Outstanding Actress),
OVERWEIGHT; unimportant: MISSHAPE
(director Yasen Peyankov); and the title roles in
The Bitter Tears of Petra Von Kant
and
Nana
(director Beata Pilch) and
Alice in Bed
(director Dado). Other credits include Shining City (director Robert Falls; Passion Play (director Mark Wing-Davy, After Dark Award, Outstanding Performance) at the Goodman Theatre; The Book Thief (director Hallie Gordon); South of Settling (director Adam Goldstein) and Dublin Carol (Director Amy Morton) at Steppenwolf Theatre, Shining City (director Robert Falls at Huntington Theatre in Boston; Passion Play (director Mark Wing-Davy) at Yale Repertory Theatre, Passion Play (director Mark Wing-Davy) at the Epic Theatre in NYC; Dying City (Director Jason Loewith) at Next Theatre, Great Men of Science (Director Tracy Letts) at Lookingglass Theatre.
Assistant Directors: Gary Damico and Skye Fort/ Set Designer: J. Michael Griggs/ Lighting Design: Richard Norwood/ Costume Design: Rachel Sypniewski/ Sound Design/ Composer: Danny Rockett/ Make-up Design: Zsófia Ötvös/ Graphic Design: Michal Janicki/ Dramaturg: Milan Pribisic/ Stage Manager: Gary Damico
____________________________________________________
HELP US MEET THE CHALLENGE!
The Trap Door Theatre is honored to be a recipient of a challenge grant from the
In an effort to help us expand our yearly fundraising goals, the Reva and David Logan Foundation has challenged Trap Door to raise $15,000 by May of 2017. If we are successful, they will match it dollar for dollar, making our total award $30,000.
This is a very prestigious award and we look forward to showing the strength of our community support.
If you've been waiting for the right time to make your tax-deductible donation to Trap Door, this is it!
OR
 make your check payable to Trap Door Productions and send to: Trap Door Theatre / 1655 W Cortland / Chicago IL 60622.
THANK YOU FOR ALL YOUR SUPPORT

Don't miss a moment of another incredible year with Trap Door Theatre!
Join us for our 23rd Season and become a subscriber!
Subscribers now get priority seating!!
Trap Door Theatre is once again offering our popular discounted multi-show pass! Use these passes in any combination for any Trap Door Theatre production with advance reservation.
Super Subscriber pass includes… * Tickets to 8 Trap Door Shows * Complimentary glass of beer or wine when you attend * Exclusive invitation to selected rehearsals! * Priority Seating for all of the shows
Passes never expire. Passes can be used in any combination anytime for any Trap Door Theatre production. Rentals, tours, or touring companies excluded. Seating is limited — please call ahead to the box office to make advance reservations when using your pass.
---
Donate towards our European Tour!
Support our "Rock it to Romania"  Fundraising Campaign!
By clicking on Donate Now link bellow you help us take this wonderful show to Europe!
Or you can send a Check to:
Trap Door Theatre 1655 West Cortland Ave. Chicago, IL 60622 773-384-0494
*(Scroll down for details about The Tour and ways you can help)
---
 How to Explain The History of Communism to Mental Patients
(REHEARSAL PROCESS) -Video by David Holcombe
Trap Door continues its long held tradition of presenting mature, challenging political theatre for discerning audiences.
TimeOut Chicago, Dan Jakes
---
European Tour 2017
The Trap Door Theatre is embarking on their 5th Annual Tour to Romania and Hungary and we need your help to get us there!
Trap Door Theatre's production of How to Explain the History of Communism to Mental Patients directed by Hungarian guest director Zoltan Balazs has been invited to play at The Maladype Theatre in Budapest, Hungary and several cities in Romania including the prestigious International Theatre Festival of Sibiu.
The Trap Door ensemble has officially launched their Rock it to Romania fundraising campaign for 10 ensemble members to go overseas and experience Eastern-European culture first hand! Accommodations, transportation between cities, and per diem have been accounted for while in Hungary and Romania for a month. Trap Door is only responsible for providing airfare for 10 company members to go overseas. Therefore we need your help to get us there!
There are many ways you can help

!
-Send us a check. All contributions are tax deductible.
-Donate online. Click link below
-Donate $25 in the lobby after the show and receive a postcard from Europe signed by the Trap Door team.
-Buy Raffle tickets at the show.
-Attend our upcoming benefit in June.
-Help Promote our tour on Facebook
-Get your friends to donate.
-Attend our show in Romania
The Trap Door ensemble needs to raise at least a minimum of $10,000 towards airfare for 10 artists. Words cannot express the appreciation our company has for any amount of support you can give to this cause. We are a 501©3 not-for-profit company and any contribution you give is tax deductible.
Thank you so much for your time and consideration of our request.
---
Can't make it to the show but want to support the theatre anyway? Leave your legacy behind! With your donation of $100, your name will be engraved on the seat of your choice at the Trap Door Theatre and reserved for you when you attend a show!
Donations can be mailed to:
Trap Door Theatre
1655 West Cortland Ave.
Chicago, IL 60622
Recognizes Trap Door as one of the best storefront theatres in the city!
---
Trap Door Productions presents its first
Documentary Film!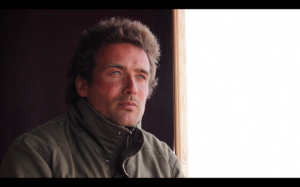 The House of Gods Trailer 1 from David A Holcombe on Vimeo.
---