If you ever wish to know what cutting-edge theater looks like in Europe, take a peek at this magnificent company - Stage and Cinema
Trap Door Theatre presents
The World Premiere of : 
Fantasy Island For Dummies
(low cut daydream too near, too near) 
Click the link below for:
Community response to Fantasy Island for Dummies
(artists and scholars share their thoughts on the production)

A new theatre work inspired by an episode of the iconic television series about the pleasures and perils of wish fulfillment. Devised in a collaborative exploration with Trap Door Theater actors, the piece is written by Ruth Margraff and directed by Kate Hendrickson,with original music composed by Pink Velvet. A  1980 "Fantasy Island" episode about a ventriloquist and her devious dummy inspires a voyage into suppressed identities, ancient Babylonian sex goddesses and a"perfect wife" struggling with her defiant
side.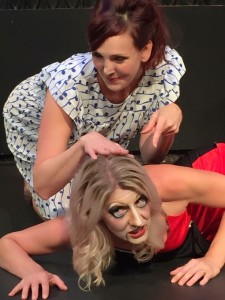 Written by: Ruth Margraff
Directed by: Kate Hendrickson
Original work inspired by the television show Fantasy Island.
Opening: Thursday, Sept 29th - 8 PM
Runs through November 5th,   
Thursdays, Fridays, Saturdays at 8PM
Admission: $20 on Thursdays and Fridays; $25 on Saturdays,
Special two-for-one admission on Fridays
Cast:
Holly Cerney,  Casey Chapman, Skye Fort, John Kahara,
Emily Lotspeich, Chris Popio, Bob Wilson
(…)this show is so brave, so bold and so nuts that no other theater company in our town would touch it with a ten foot pole. As Ricardo Montalban tells Annette Funicello in the original episode: "This is Fantasy Island. Things are possible here that can occur in no other place." The same is true, once again, for Trap Door Theatre.
-Emilio Williams-playwright
A fantastical show that is truly unique in the Chicago theatre scene! It's so strange and that's what makes it so fun and artful!
Quinn Delany, Playlist.HQ
 Absurdly comic (…) at all times very entertaining
Trap Door offers something truly fresh and interesting
Fantasy Island for Dummies is more exciting, exploratory, and entertaining than most — so long as you're willing to dive into the oddly fantastical.
Chicago Critic- Recommended 
Click below for: 
 Ruth Margraff (Playwright) Ruth Margraff has been called a leader in America's avant garde for her "audaciously original" (Moscow Times) use of language as poetic and vocal art to provide "layer after layer of richly textured emotion…and imminent danger" (Dallas Morning News). Best known in Chicago for her critically acclaimed ANGER/FLY with Trap Door and Kate Hendrickson in 2012; in NYC for writing six critically acclaimed martial arts operas with the late composer Fred Ho for the Apollo, Guggenheim Museum, Brooklyn Academy of Music and several national tours; for her Night Wind from Afghanistan for the play SEVEN, touring the world since 2008, introduced in 2010 by Hillary Clinton with Meryl Streep at the Broadway Hudson Theater; and for touring with her Café Antarsia Ensemble's projects such as PREVIOUSLY BLUE (Dah Teatar, Serbia; 7Stages, Atlanta; Coe College/ Marquis Series, Dows Theatre, Iowa; Links Hall, Chicago Fringe Festival). She has received awards from Rockefeller, McKnight, Jerome, NEA, TCG, TMUNY, NYSCA, IAC, and Fulbright foundations. She's a member of Theater Without Borders, LPTW and Red Tape Theater, a New Dramatist and Playwrights' Center alumnae, a Chicago Dramatist playwright emeritus, and is Professor and Chair of the Writing Program at the School of the Art Institute of Chicago. www.ruthmargraff.com
Kate Hendrickson (Director) Kate Hendrickson is a resident director at Trap Door Theatre where her particular focus is on premiering new plays by radical American playwrights. She has developed and sustained long-term collaborative relationships with several playwrights, steering multiple world premiere productions to critical and popular success. Together with Margraff and the Trap Door ensemble Hendrickson created ANGER/FLY which was recognized in the Chicago Reader "Best Of" edition as part of a Trap Door season presenting the "best string of theatrical stunners." Other Trap Door credits include Cookie Play, Chaste and Beholder (Jeff Award for Best New Work, After Dark Award for Best Original Music), by Ken Prestininzi. Chaste received "Best of the Year" nods in the Chicago Tribune, Chicago Sun-Times, Chicago Stage Review, and the Huffington Post. Kate also directed Midwest premieres of Prestininzi's AmeriKafka, Howard Zinn's Emma (After Dark Award for Best Ensemble), and 12 Ophelias by Caridad Svich.
Assistant Director/SM Kristin Davis/ Lighting Design Richard Norwood / Set Design AJ Tarzian/ Costume Design Rachel Sypniewski / Music Composer Pink Velvet/  Graphic Design Michal Janicki/ Sound Design Mike Mazzocca/ Movement Director Kasey Foster/ Makeup Design Zsófia Ötvös /  Props Design Anne Sonneville
____________________________________________________
HELP US MEET THE CHALLENGE!
The Trap Door Theatre is honored to be a recipient of a challenge grant from the
In an effort to help us expand our yearly fundraising goals, the Reva and David Logan Foundation has challenged Trap Door to raise $15,000 by May of 2017. If we are successful, they will match it dollar for dollar, making our total award $30,000.
This is a very prestigious award and we look forward to showing the strength of our community support.
If you've been waiting for the right time to make your tax-deductible donation to Trap Door, this is it!
OR
 make your check payable to Trap Door Productions and send to: Trap Door Theatre / 1655 W Cortland / Chicago IL 60622.
THANK YOU FOR ALL YOUR SUPPORT

Don't miss a moment of another incredible year with Trap Door Theatre!
Join us for our 23rd Season and become a subscriber!
Subscribers now get priority seating!!
Trap Door Theatre is once again offering our popular discounted multi-show pass! Use these passes in any combination for any Trap Door Theatre production with advance reservation.
Super Subscriber pass includes…
* Tickets to 8 Trap Door Shows
* Complimentary glass of beer or wine when you attend
* Exclusive invitation to selected rehearsals!
* Priority Seating for all of the shows
Passes never expire. Passes can be used in any combination anytime for any Trap Door Theatre production. Rentals, tours, or touring companies excluded. Seating is limited — please call ahead to the box office to make advance reservations when using your pass.
---
Donate towards our European Tour!
Support our "Rock it to Romania"  Fundraising Campaign!
By clicking on Donate Now link bellow you help us take this wonderful show to Europe!
Or you can send a Check to:
Trap Door Theatre 1655 West Cortland Ave. Chicago, IL 60622 773-384-0494
*(Scroll down for details about The Tour and ways you can help)
---
 How to Explain The History of Communism to Mental Patients
(REHEARSAL PROCESS) -Video by David Holcombe
Trap Door continues its long held tradition of presenting mature, challenging political theatre for discerning audiences.
TimeOut Chicago, Dan Jakes
---
European Tour 2017
The Trap Door Theatre is embarking on their 5th Annual Tour to Romania and Hungary and we need your help to get us there!
Trap Door Theatre's production of How to Explain the History of Communism to Mental Patients directed by Hungarian guest director Zoltan Balazs has been invited to play at The Maladype Theatre in Budapest, Hungary and several cities in Romania including the prestigious International Theatre Festival of Sibiu.
The Trap Door ensemble has officially launched their Rock it to Romania fundraising campaign for 10 ensemble members to go overseas and experience Eastern-European culture first hand! Accommodations, transportation between cities, and per diem have been accounted for while in Hungary and Romania for a month. Trap Door is only responsible for providing airfare for 10 company members to go overseas. Therefore we need your help to get us there!
There are many ways you can help

!
-Send us a check. All contributions are tax deductible.
-Donate online. Click link below
-Donate $25 in the lobby after the show and receive a postcard from Europe signed by the Trap Door team.
-Buy Raffle tickets at the show.
-Attend our upcoming benefit in June.
-Help Promote our tour on Facebook
-Get your friends to donate.
-Attend our show in Romania
The Trap Door ensemble needs to raise at least a minimum of $10,000 towards airfare for 10 artists. Words cannot express the appreciation our company has for any amount of support you can give to this cause. We are a 501©3 not-for-profit company and any contribution you give is tax deductible.
Thank you so much for your time and consideration of our request.
---
Can't make it to the show but want to support the theatre anyway? Leave your legacy behind! With your donation of $100, your name will be engraved on the seat of your choice at the Trap Door Theatre and reserved for you when you attend a show!
Donations can be mailed to:
Trap Door Theatre
1655 West Cortland Ave.
Chicago, IL 60622
Recognizes Trap Door as one of the best storefront theatres in the city!
---
Trap Door Productions presents its first
Documentary Film!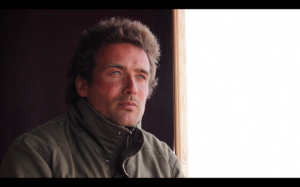 The House of Gods Trailer 1 from David A Holcombe on Vimeo.
---