Trap Door Theatre Presents:
Morning in America grows dark as Homeland Security invades the heartland, in our hysterically dystopian world premiere of…
Cookie Play
NOW EXTENDED!
January 8 – February 21st, 2015

Thursdays, Fridays, Saturdays at 8pm and Sundays at 3pm beginning on Jan. 25.
$20 on Thursdays, Fridays and Sundays; $25 on Saturdays
Special 2-for-1 Admission on Fridays
No Performance Sunday, 2/15
Playwright Ken Prestininzi has penned an edgy satire. Heartbreakingly tender… [with] unexpected slapstick moments that lighten the very heavy subject matter.                                 – Katy Walsh, The Fourth Walsh
Cookie Play sports shades of a twisted thriller, a black comedy and a surrealist poem. It is wrapped in enthralling suspense, engaged in an ideological debate and afloat in a sea of imagined sequences and metaphors, often in rapid succession. Prestininzi and Hendrickson play loosely with genre in a deliberate way, keeping the audience from ever getting comfortable with their own concept of what the play is or isn't.
-Steven Chaitman, Windy City Times
This dark comedy offers a potent metaphor for the cruelty we countenance in the name of homeland security. -Zac Thompson, Chicago Reader
The most brave and original show currently being performed in Chicago

-Emilio Williams, playwright/director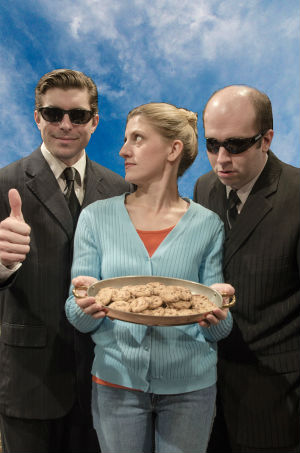 Photo Credit: Michal Janicki
Written by Ken Prestininzi Directed by Kate Hendrickson
Featuring: Lyndsay Rose Kane, Chris Popio, Mike Steele, Gage Wallace, & Carl Wisniewski
In Cookie Play, a mother from the heartland, fearing her son may be the next Edward Snowden, agrees to hold him captive in her basement to save both son and country. What happens next upends everyone's moral equilibrium in this twisted, offbeat satire. The truth of black sites, whistle-blowing and sanctioned torture intrudes upon one family's belief in a life as optimistic and sweet as a TV situation comedy or favorite bedtime story.
Director Kate Hendrickson and playwright Ken Prestininzi are longtime collaborators whose critically acclaimed productions at Trap Door Theatre have garnered several awards including a Jeff Award for Best New Work. They've sustained their collaborative relationship for over 20 years and, under the auspices of Trap Door, it is thriving. Hendrickson and Prestininzi spark each other to make precise leaps of imagination, while they interrogate and embrace what's both dangerous and tender in human connections. Together they form a director/playwright team of shared reverie, theatrical vision, and the belief in the persuasion of intimacy and commitment.
Stage Manager Meg Eaton / Graphic Design Michal Janicki / Assistant Director John Kahara/ Fight Choreography Mathias Maloff/ Set Design Mike Mroch/ Lighting Design Richard Norwood/ Makeup Design Zsófia Ötvös/ Sound Design Danny Rockett/ Costume Design Rachel Sypniewski
This project is supported with a grant from the Elizabeth F. Cheney Foundation.
To help celebrate Trap Door Theatre's 21st Anniversary, Jane's Restaurant is offering a complimentary glass of wine with purchase of your entree! Just show your ticket to your server and enjoy! Jane's is located in the front of the Trap Door building at 1655 W. Cortland Ave. www.janesrestaurant.com
---
 Can't make it to the show but want to support the theatre anyway? Leave your legacy behind! With your donation of $100, your name will be engraved on the seat of your choice at the Trap Door Theatre and reserved for you when you attend a show!
Donations can be mailed to:
Trap Door Theatre
1655 West Cortland Ave.
Chicago, IL 60622
---
JOHN DOE HAS BEEN INVITED TO RETURN TO POLAND IN FEBRUARY!
John Doe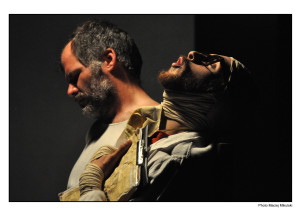 Based on The Madman and the Nun by Stanislaw I. Witkiewicz
Translated by Daniel Gerould
 Adapted and Directed by: Andrzej St. Dziuk
Guest Artist from the Teatr Witkacy in Zakopane, Poland
Performances on February 26 & 27
Teatr im, St I. Witkiewicza
Ul. Chramcowki 15
34-500 Zakopane
This past summer, The Trap Door ensemble traveled to Zakopane Poland to co-create their critically acclaimed Chicago production of John Doe, based on the Madman and the Nun by Stanislaw Witkiewicz, under the direction of Teatr Witkacy's Artistic Director, Andzej Dziuk.
Now Trap Door is invited back as part of 130/30, a celebration that brings together Teatr Witkacy's 30th birthday, and the 130th anniversary of Witkiewicz's birth.Various groups from all over Poland have been invited to participate and Chicago's very own Trap Door Theatre has been chosen to take part in such an unique celebration.
Featuring ensemble members: Kirk Anderson, Holly Cerney, Michael Garvey, Johnny Graff, John Kahara, Beata Pilch, and Wesley Walker.
Assistant Director Krzysztof Wnuk/ Choregrapher Anita Podkowa/ Sound Designer Andrzej Dziuk/ Lighting Design Richard Norwood / Set & Costume Design Marek Mikulski/ Costume Assistant Jolanta Solska/Stage Manager Gary Damico/
Trap Door once again reminds us of its unique ability to translate vital but underproduced (in the U.S., anyway) European masterworks with visceral intelligence and scorching wit.                                                 *** (3 stars) - The Chicago Tribune
---
Recognizes Trap Door as one of the best storefront theatres in the city!
---
Trap Door Productions presents its first
Documentary Film!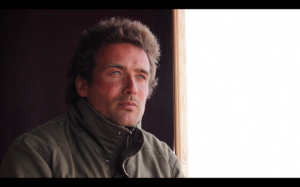 The House of Gods Trailer 1 from David A Holcombe on Vimeo.
---
Congratulations to Trap Door's Nicole Wiesner for her recent Jeff Award for Best Actress in First Ladies!

Congrats to Nicole Wiesner for bringing home the Jeff Award!