If you ever wish to know what cutting-edge theater looks like in Europe, take a peek at this magnificent company - Stage and Cinema
Trap Door Theatre presents…
No Matter How Hard We Try
or
We Can Exist on The Best Terms We Can
Written by: Dorota Maslowska
Translated by: Artur Zapalowski 
Directed by: Max Truax
Opens: Thursday, May 12,  2016 at 8PM
Closes: Saturday, June 25, 2016 at 8PM
Runs: Thursday, Friday, Saturday at 8 PM
$20 on Thursdays and Fridays; $25 on Saturdays;  Special 2-for-1 Admission on Fridays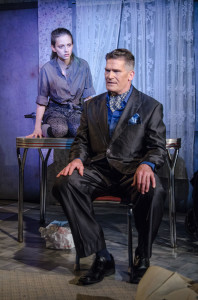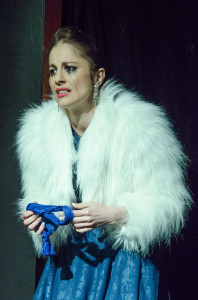 Cast:  Tiffany Bedwell, Marzena Bukowska, Simina Contras,
Johnny Graff, Emily Nichelson, Beata Pilch, and Kelsey Shipley.
 This show is supported by:
DOROTA MASLOWSKA is a Polish writer born in 1983. Her first novel translated into English as SNOW WHITE AND RUSSIAN RED, was published while she was still a teenager and made her an instant literary sensation in her native country. The novel detailed the growing pains of marginalized small-town youth. In 2005, Mas?owska published her second book, THE QUEEN'S PUKECOCK, a 150 page rap poem in prose. Both of these books were adapted for the stage in Poland, Germany and Great Britain. Maslowska wrote her first play, A COUPLE OF POOR-POLISH SPEAKING ROMANIANS, in 2006 (Trap Door staged it in 2009) and her second one, NO MATTER HOW HARD WE TRY, OR WE CAN EXIST ON THE BEST TERMS WE CAN, in 2008. In 2012, Maslowska published another novel, HONEY, I KILLED OUR CATS, and in 2014 released her first music album, THE SOCIETY IS MEAN, a mixture of punk, rap and dance music with lyrics commenting on current social issues. Mas?owska 's writing is characterized by her ironic, pessimistic worldview and extraordinary linguistic power; as a postmodern writer she confronts, disturbs and subverts sacred ideas of selfhood and nationhood
MAX TRUAX is a Resident Director at Trap Door, where he has directed productions of  THE BALCONY by Jean Genet, THEY ARE DYING OUT by Peter Handke, an operatic interpretation of HAMLETMACHINE by Heiner Muller, NO DARKNESS ROUND MY STONE by Fabrice Melquiot, and A COUPLE OF POOR, POLISH-SPEAKING ROMANIANS, also by Dorota Mas?owska. His production of  A COUPLE OF POOR, POLISH-SPEAKING ROMANIANS  performed at the Fun Underground Festival in Arad, Romania and at the Bagatela Theatre in Krakow, Poland.  Max is a freelance director and has directed several productions at Oracle Theatre, such as NO BEAST SO FIERCE, THE PRESIDENT, and THE MOTHER.   His production of THE MOTHER received several Jeff Awards including awards for Best Production and Best Ensemble. Max studied visual art, performance art and choreography at Oberlin College and received his MFA in Theatre Directing from California Institute of the Arts.
Set Designer Joanna Iwanicka/ Lighting Designer Richard Norwood / Costume Designer Rachel Sypniewski / Sound Designer Steve Labedz/Video Design Paul Deziel/Stage Manager Deirdre Connelly/ Makeup Designer / Zsófia Ötvös Graphic Designer Michal Janicki/
Trap Door Theatre is going to Romania!

ROCK IT TO ROMANIA BENEFIT FOR TRAP DOOR THEATRE

Sunday June 5th. Doors open at 7PM.

WHERE:

Township Bar

 2200 N California Ave, Chicago, IL 60647

 

$10 Admission at the door.

This includes early bird pizza party, musical, improv and variety acts, cheap beer, Vampires and more!

Silent auction and raffle prizes. Vote on your favorite performer!

 

Enjoy special homemade brews contributed by        

Chuck Patella & Mark Spence.

All proceeds from this event go to support Trap Door's ensemble to tour Romania in spring 2017.

Celebrate international cultural exchange!
*Donate towards our European Tour!
Support our "Rock it to Romania"  Fundraising Campaign!
By clicking on Donate Now link bellow you help us take this wonderful show to Europe!
Or you can send a Check to:
Trap Door Theatre 1655 West Cortland Ave. Chicago, IL 60622 773-384-0494
*(Scroll down for details about The Tour and ways you can help)
---
 How to Explain The History of Communism to Mental Patients
(REHEARSAL PROCESS) -Video by David Holcombe
Trap Door continues its long held tradition of presenting mature, challenging political theatre for discerning audiences.
TimeOut Chicago, Dan Jakes
---
European Tour 2017
The Trap Door Theatre is embarking on their 5th Annual Tour to Romania and Hungary and we need your help to get us there!
Trap Door Theatre's production of How to Explain the History of Communism to Mental Patients directed by Hungarian guest director Zoltan Balazs has been invited to play at The Maladype Theatre in Budapest, Hungary and several cities in Romania including the prestigious International Theatre Festival of Sibiu.
The Trap Door ensemble has officially launched their Rock it to Romania fundraising campaign for 10 ensemble members to go overseas and experience Eastern-European culture first hand! Accommodations, transportation between cities, and per diem have been accounted for while in Hungary and Romania for a month. Trap Door is only responsible for providing airfare for 10 company members to go overseas. Therefore we need your help to get us there!
There are many ways you can help

!
-Send us a check. All contributions are tax deductible.
-Donate online. Click link below
-Donate $25 in the lobby after the show and receive a postcard from Europe signed by the Trap Door team.
-Buy Raffle tickets at the show.
-Attend our upcoming benefit in June.
-Help Promote our tour on Facebook
-Get your friends to donate.
-Attend our show in Romania
The Trap Door ensemble needs to raise at least a minimum of $10,000 towards airfare for 10 artists. Words cannot express the appreciation our company has for any amount of support you can give to this cause. We are a 501©3 not-for-profit company and any contribution you give is tax deductible.
Thank you so much for your time and consideration of our request.
WANT TO BE A FRENCH CLOWN?
Take a class with the Parisian Clown Master,
Victor Quezada-Perez! 
Pictured: Trap Door ensemble member Tiffany Bedwell in The Arsonists
Trap Door Theatre invites French guest director Victor Quezada-Perez to teach Clowning workshop in Chicago.
Trap Door Theatre's director of the critically acclaimed production of The Arsonists will come to Chicago in May to teach specialized classes in 
Clown, Neutral Mask and Body Expression Mask. 
This Master Class will focus on the techniques rooted in the art of clown, fundamentals which may be applied to the art of the actor in general.
There are daytime and evening/weekend  classes available.
Evening & Weekend Session:
May 23rd through May 29th:
Monday through Wednesday

 from

6:00PM to 10:00PM

 
 

Saturday and Sunday

 from 

10:00AM to 4:00 PM

 
Daytime Session: 
May 31st through June 2nd:
Tuesday through Thursday

from

10:00AM to 5:00PM
The price for this 5 Session Workshop is only $250.
Location: The workshop will take place at HQ space located at 1914 N. Milwaukee Ave. 3rd floor. Chicago, Il. 60647
EARLY BIRD DISCOUNT!
Take advantage of our early bird discount and get $25 off if you reserve your place in the class 2 weeks in advance.
May 9th is the last day to sign up for evening classes beginning May 23rd.
May 17th is the last day to sign up for daytime classes beginning May 31st.
In order to secure your space, 50% of the cost of the class is due upon sign-up, the remainder will be collected upon attendance
The Master Class will focus on the techniques rooted in the art of the clown, fundamentals which may be applied to the art of the actor in general:
Neutral mask

Clown mask

Gravity and suspension

Musicality of the text and body

Fundamental states: anger, sadness, joy and fear

Verticality: ground anchor circulation of energy in the body
Victor Quezada-Perez is an actor, clown, musician, writer and director born in France. He is the founder of the Parisian clown company Cie Umbral, and has directed his company in festivals such as Avignon, France and Sibiu, Romania. He has been teaching clown for the last ten years. His specialty is staging new and classic stage text in clown. His collaborations with international writers, performers and directors include; Romanian/French playwright Matei Visniec, Marcos Malavia (founder of the Sourou theatre company), French performance artist Yanowski, author and professor Ariel Dorfman, Chilean author Luis Sepulveda, the Moroccan poet Abdellatif Laabi, and Trap Door's artistic director Beata Pilch.
"Guest director Victor Quezada-Perez brings his masterful expertise in the art of clowning to this mesmerizing and disturbing production in which each and every character is based in the European clowning tradition"
NewCity
While in town, Mr. Quezada-Perez will also hold auditions for "The Resistible Rise Of Arturo Ui" by Bertolt Brecht, opening spring 2017 at Trap Door Theatre.
Please Note: Red Noses will be provided in the class!
---
Romanian show hosted by The Trap!
Only two performances!
Sunday, May 29 and Monday, May 30, 8 PM

Our Company member Simina Contras, co-founder and artistic director at Ro Stage – Romanian theatre company in Chicago, will perform in this show (in Romanian) next to guest actor from Romania, Adrian Grigoras. This show supports "How to Explain the History of Communism to Mental Patients" by Romanian playwright Matei Visniec to tour Romania and Hungary in 2017. 
---
Can't make it to the show but want to support the theatre anyway? Leave your legacy behind! With your donation of $100, your name will be engraved on the seat of your choice at the Trap Door Theatre and reserved for you when you attend a show!
Donations can be mailed to:
Trap Door Theatre
1655 West Cortland Ave.
Chicago, IL 60622
Recognizes Trap Door as one of the best storefront theatres in the city!
---
Trap Door Productions presents its first
Documentary Film!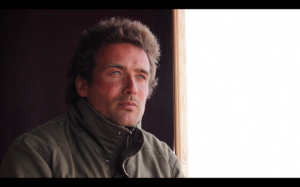 The House of Gods Trailer 1 from David A Holcombe on Vimeo.
---