Trap Door Theatre Presents:
LA BÊTE
Written by David Hirson
Directed by Kay Martinovich

March 19 – April 25th, 2015
Thursdays, Fridays, Saturdays at 8pm
$20 on Thursdays and Fridays; $25 on Saturdays
Special 2-for-1 Admission on Fridays
$30 on Saturday, March 21st for talkback with director Kay Martinovich. Wine and cheese reception to follow!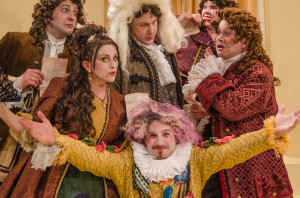 Featuring: Marzena Bukowska, Casey Chapman, Kevin Cox, Jesse Dornan, Skye Fort, Bill Gordon, Kelly Jean, Meghan Lewis, Mike Mazzocca & Ann Sonneville
La Bête is a rollicking play, written in rhyming couplets, and inspired by the life of the French comic master, Molière. In the play, Elomire (an anagram for Molière) is the leader of an acting troupe, which according to their patron the Princess has gone stale and listless. She decrees that they must now hire a new company member, the bombastic, vulgar street performer Valere. A standoff between Elomire and Valere ensues and their lively debate is both funny and dramatic, hilarious and tragic.
David Hirson (Playwright) is an American playwright born into a show business family. He attended Yale and Oxford and his two well known-plays (La Bête and Wrong Mountain) deal with the issues surrounding the "creative process," culture, and art vs. entertainment. La Bête, his first play, was produced on Broadway in 1991 where it infamously closed after only 25 shows despite the John Gassner Playwriting Award of the Outer Critics Circle for its author. The next year, it was produced at London's West End garnering both critical and commercial success and winning the prestigious Laurence Olivier Award for Best New Comedy. The play got its second chance on Broadway in 2010 with great success, which was repeated at London's West End. Hirson's plays have received nominations for multiple Tony and Drama Desk Awards. Kay Martinovich (Director) works as a freelance director based in Chicago. Most recently she directed Down Range by Jeffrey Skinner at Genesis Productions and A Skull in Connemara By Martin McDonagh at Northern Illinois University, where she is an Assistant Professor in Acting. Last year she directed Winsor McCay by Laura Marks (TEN Festival) at The Gift Theater and Anything of Value by Brett Neveu (RIPPED Festival) at American Blues. As Associate Artistic Director of Irish Repertory of Chicago (1999-2006), she directed the American premieres of Marina Carr's By the Bog of Cats… and Brian Friel's The Yalta Game, among others. She is a proud member of The Society of Stage Directors and Choreographers (SDC).
Stage Manager Allison Goetzman / Set Designer Carolyn Voss / Lighting Designer Richard Norwood / Costume Designer Rachel Sypniewski / Sound Designer Steve Labedz / Movement Kendra Holton/ Dramaturg Milan Pribisic / Graphic Designer Michal Janicki /
To help celebrate Trap Door Theatre's 21st Anniversary, Jane's Restaurant is offering a complimentary glass of wine with purchase of your entree! Just show your ticket to your server and enjoy! Jane's is located in the front of the Trap Door building at 1655 W. Cortland Ave. www.janesrestaurant.com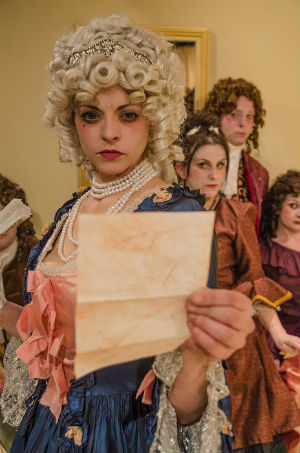 ---
Help Us Get a Heater For Our Theatre!
We at Trap Door are desperately seeking funds to replace our 20 year old heating system.
We'd like to keep our patrons warm while we continue to bring you some of the hottest theatre in town!
We need to raise $5,000 to get a new heating and A/C system. All donations are tax deductible. If you are able to support us in this very important request please send a check to:
Trap Door Theatre 1655 West Cortland Ave. Chicago, IL 60622 773-384-0494
Or make a donation online by following this link.
Every bit helps us stay warm during the brutal Chicago winter.
Thank you!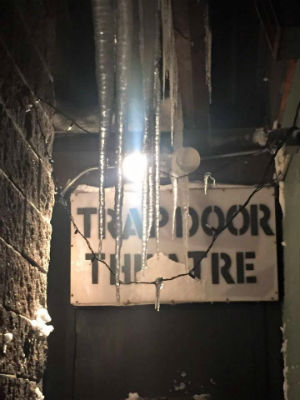 ---
Can't make it to the show but want to support the theatre anyway? Leave your legacy behind! With your donation of $100, your name will be engraved on the seat of your choice at the Trap Door Theatre and reserved for you when you attend a show!
Donations can be mailed to:
Trap Door Theatre
1655 West Cortland Ave.
Chicago, IL 60622
---
Recognizes Trap Door as one of the best storefront theatres in the city!
---
Trap Door Productions presents its first
Documentary Film!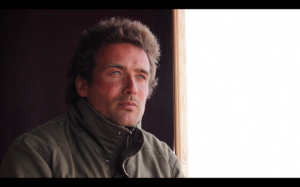 The House of Gods Trailer 1 from David A Holcombe on Vimeo.
---
Congratulations to Trap Door's Nicole Wiesner for her recent Jeff Award for Best Actress in First Ladies!

Congrats to Nicole Wiesner for bringing home the Jeff Award!