If you ever wish to know what cutting-edge theater looks like in Europe, take a peek at this magnificent company - Stage and Cinema
Join Trap Door in its 24th Season!
Currently Running:

The Locketeer
 Written by: Elias Canetti
 Translated by: Carol Stewart
Adapted and Directed by: Catherine Sullivan
presented with support from the Elizabeth F. Cheney Foundation 
The Locketeer is an adaptation of Elias Canetti's play from 1956, The numbered wherein a nameless future state claims its power by imposing life spans on its citizens. This competition for status causes social paranoia and a tragicomic refusal of facts. The adaptation will be devised with the ensemble.
This physicality and expressiveness of this cast of ten under the superb direction of Catherine Sullivan IS what gives THE LOCKETEER its considerable draw. – Amy Munice, Picture this Post
…the endlessly inventive Trap Door has the advantage of being experienced producing the works of central/eastern European makers from the past century… Sullivan's method of demonstrating the consequences of this is ingenious. – Jacob Davis, Around the Town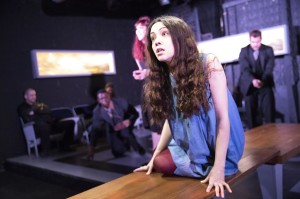 Cast: Dennis Bisto, Abby Blankenship, Marzena Bukowska, Holly Cerney, Sami Ismat, Emily Lotspeich, Joan Nahid, Zachary Nicol, Keith Surney and Bob Wilson.

January 25 through March 03, 2018
Performances Thurs, Fri and Sat at 8PM
Admission: $20 on Thursdays, Fridays, $25 on Saturdays, 2 for 1 Admission on Fridays
For More Information/Reservations: 773-384-0494
Where: TRAP DOOR THEATRE 1655 West Cortland Ave. Chicago, IL 60622
Elias Canetti (Playwright) was born in 1905 in Bulgaria, grew up in Vienna, Austria in the 1920s, and escaped to England at the beginning of WW2 in 1939. He died in Switzerland in 1994.  Canetti wrote all his literary works (novel, essays, plays, travel journals, social studies and the three tomes of autobiography) in German.   As Sephardic Jew he experienced anti-semitism first had which inspired his famous study on mass psychology, Crowds and Power (1960).  His first and only novel Auto-Da-Fé (1935) is about totalitarian thinking and the psychopathology of power.  His plays, The Wedding (1932), Comedy of Vanity (1933/34) and Life-Terms (1964), are the least know part of his literary oeuvre.  They are satires developed around one central idea/theme without plot or any conventional, linear development.  They are founded on "acoustic masks," the Canetti's term for a character's language reservoir, as language is both the main element of dramatic structure and a "great traitor" of human character.  Canetti won the Nobel Prize for Literature in 1981.
Catherine Sullivan (Director) has created film, theater and installation work with numerous collaborators and ensembles nationally and internationally. The performers in her works are often coping with written texts, stylistic economies, re-enactments of historic performances, gestural and choreographic regimes, and conceptual orthodoxies. Her true medium is the ensemble itself. Solo exhibitions, collaborations, performances and films have been presented at venues such as UCLA Armand Hammer Museum, Los Angeles; Walker Art Center, Minneapolis; The Renaissance Society at the University of Chicago; Museum of Contemporary Art, Chicago; Whitney Museum of American Art, New York; Metro Pictures, New York; Galerie Catherine Bastide, Brussels, Galerie Christian Nagel, Cologne; Secession, Vienna; Tate Modern, London; Opéra de Lyon, Lyon; Volksbühne, Berlin; Cricoteka, Krakow; Trapdoor Theatre, Chicago; the Whitney, Moscow and Gwangju biennials; Berlin International Film Festival and International Film Festival Rotterdam. Her work is held in public and private collections including Museum of Contemporary Art, Los Angeles; Whitney Museum of American Art, New York; Tate Modern, London; Thyssen-Bornemisza Art Contemporary, Vienna; Rubell Family Foundation, Miami and Geotz Collection, Munich. Notable awards include The Louis Comfort Tiffany Foundation, Herb Alpert Award in the Arts, Deutscher Akademischer Austausch Dienst, United States Artists Walker Fellowship and a Chicago Dancemaker's Forum Lab Artist Award. She holds a BFA in acting from California Institute of the Arts and an MFA in post-studio art from Art Center College of Design. She is an associate professor in the Department of Visual Arts at the University of Chicago.
Set Designer J. Michael Griggs / Lighting Design Richard Norwood/ Costume Design Rachel Sypniewski/ Sound Design Mike Mazzocca/ Make-Up Design Zsófia Ötvös / Props Design Ann Sonneville/Graphic Design Michal Janicki/ Dramaturg Milan Pribisic/ Stage Manager Kristin Davis
This month, Guest Director Aleksi Barrière will participate in two workshops at the University of Chicago related to his upcoming production with Trap Door Theatre, Letter of Love (The Fundamentals of Judo):
- On Feb 19, at the Workshop in Theatre and Performance Studies coordinated by Sharvari Sastry, he will give a talk about 'Form Ecology, a tool for interdisciplinary research and creation', an opportunity to question the ways art forms interact and cross-fertilize, a topic crucial to our performance. (4:30 pm to 6:00 pm, Logan Center #801)
- On Feb 27, he will discuss 'Radical Legacies in Contemporary French Theater' in the framework of Jennifer Wild's Counter Cinema/Counter Media Project. Delving into the many avant-gardes that blossomed on the Left Bank in Paris in the early 60s and that our show are based on, this will be an opportunity to tell more about this complex legacy and our relationship to it in the process of creating a new play for Trap Door. (Community room at the Centers for Gender/Race Studies, 5733 S. University Avenue)
Trap Door's Occidental Express has been invited to the Republic of Moldova!
Trap Door ensemble is thrilled to perform at the International Festival-"Matei Visniec-from National to Universal" in Chisinau, Moldova in the fall of 2018.
Trap Door Theatre will represent the USA along with twenty-two other theatre companies that will be participating from Brazil, France, Japan, Greece, Italy. Turkey Russia, Poland. Germany, Great Britain and Hungary! The festival will take place from October 6th to the 14th, 2018.
Trap Door also plans to tour Romania, Hungary and Poland!
We need your help to get there.
Trap Door is launching their annual fundraising campaign to be able to take 9 artists across the ocean.
The hosting theatre will provide us with accommodations, per diem, and marketing. We are only in need of airfare to get us there.
Trap Door needs to raise $20,000
you can help us reach our goal!
Trap Door Theatre is a 501 (c)3 organization and any donation is tax deductible. If you are able to donate to this very important cause, please send your check to Trap Door Theatre, 1655 West Cortland, Chicago, IL. 60622 or make a payment online at www.trapdoortheatre.com.
Every little bit helps get us closer to fulfilling our dreams. If you donate $100 or more, you will receive a postcard signed by the cast from Europe. Thank you to all of those that have contributed to our international tours in the past. We could not have made it without you. We appreciate your generosity and support of our mission for foreign cultural exchange.
---
"We are grateful to all of those who helped us reach our goal last year!"
"Thanks to your generosity we have been presented with the Challenge once more and need to raise another $15,000 by May 2018″
HELP US MEET THE CHALLENGE ONCE MORE!
The Trap Door Theatre is once again honored to be a recipient of a challenge grant from the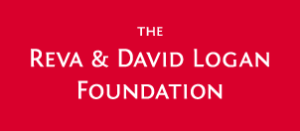 In an effort to help us expand our yearly fundraising goals, the Reva and David Logan Foundation has challenged Trap Door to raise $15,000 by May of 2018. If we are successful, they will match it dollar for dollar, making our total award $30,000.
This is a very prestigious award and we look forward to showing the strength of our community support.
If you've been waiting for the right time to make your tax-deductible donation to Trap Door, this is it!
OR
 make your check payable to Trap Door Productions and send to: Trap Door Theatre / 1655 W Cortland / Chicago IL 60622.
THANK YOU FOR ALL YOUR SUPPORT!

Don't miss a moment of another incredible year with Trap Door Theatre!
Join us for our 24th Season and become a subscriber!
Subscribers now get priority seating!!
Trap Door Theatre is once again offering our popular discounted multi-show pass! Use these passes in any combination for any Trap Door Theatre production with advance reservation.
Super Subscriber pass includes… * Tickets to 8 Trap Door Shows *, a complimentary concession when you attend and an * Exclusive invitation to selected rehearsals! * Priority Seating for all of the shows
Passes never expire. Passes can be used in any combination anytime for any Trap Door Theatre production. Rentals, tours, or touring companies excluded. Seating is limited — please call ahead to the box office to make advance reservations when using your pass.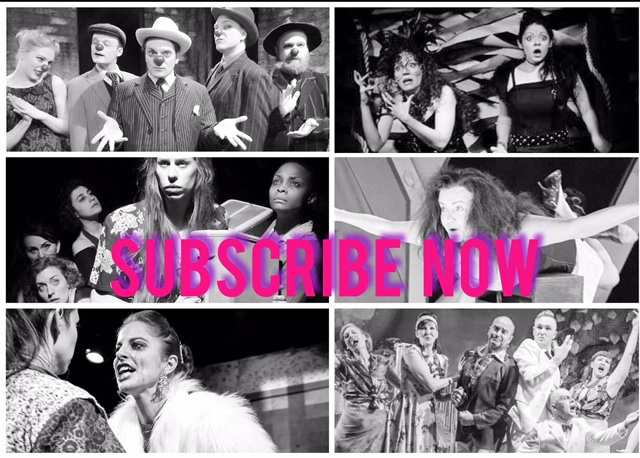 Trap Door continues its long held tradition of presenting mature, challenging political theatre for discerning audiences.
TimeOut Chicago, Dan Jakes
---
Can't make it to the show but want to support the theatre anyway? Leave your legacy behind! With your donation of $100, your name will be engraved on the seat of your choice at the Trap Door Theatre and reserved for you when you attend a show!
Donations can be mailed to:
Trap Door Theatre
1655 West Cortland Ave.
Chicago, IL 60622
Recognizes Trap Door as one of the best storefront theatres in the city!
---
Trap Door Has Its First Documentary Film!
The House of Gods
TRAP DOOR Productions has ventured out to make their first documentary film entitled THE HOUSE OF GODS based on the experience of meeting one very special man on the Camino de Santiago de Campostela in Northern Spain.
The House of Gods (La Casa de Los Dioses) trailer from David A Holcombe on Vimeo.